Discover more from The Writer Gal Letter
A regular love letter to my peeps about my upcoming releases, fave shows, and hot dudes, naps, and all the music that inspires my books!
Over 7,000 subscribers
Some Good News, A Million Hugs
A freebie and more
Mahalo,
I am writing this Writer Gal letter in a slightly nostalgic, *slightly* angsty mood. The soundtrack to my week would be Bury The Hatchet by The Cranberries. This is all because of a disastrous start to this week and month - my grandma's vertigo came back and due to the heavy rains in Mumbai, our ceiling has become a little bit like the Red Sea with no Moses parting it :P Suffice it to say, I was one cranky Writer Gal who wanted to write Michael and Daria's story and instead ran around figuring out civil stuff and doctor stuff.
All is well in Casa Writer Gal now and I am betting the rest of the week and month only gets better from here on out! For me and you :)
In the interest of kickstarting the better now, I am so BEYOND pleased to share the following incredible updates with you guys. (If you want to get to the freebie first, scroll to the end of the post ASAP and get it now!)
---
Good News #1
My 2019 paperback release "The Worst Daughter Ever" has been picked up for adaptation!
We signed a contract and everything. And, straight up A MILLION BILLION THANK YOU to each and everyone of you, my reader friends, who have supported, encouraged, loved me up so hard that now we are here. Getting ready for an ADAPTATION to the big screen! How can I ever do this without you, peeps? (wipes happy tears)
Here's the full scoop on my Instagram post.
LJ GOES TO BOLLYWOOD! I repeat, LJ goes to Bollywood! 🤩🤩🤩🤩
It is with nothing short of squealing excitement that I share this incredible and AMAZING news. The very awesome screen agent extraordinaire
@_sidharth_jain_
from the
@the_story_ink
has formally picked up the adaptation rights of THE WORST DAUGHTER EVER. We signed a contract and everything, peeps! So IT IS OFFICIAL!
A LOT of people have put in a lot of effort to get this book and its author to where we are today. And I would be extremely remiss if I did not mention them all today!
Suhail and The Book Bakers who picked up LJ for representation within minutes of me narrating the log-line. Saswati and the incredible people over at Rupa for ensuring EVERYTHING about the book is perfect, right from the cover designed by
@mehak_97
to the edits to the marketing and distribution ACROSS India!
I also have to thank my own crazy but supportive family for everything. My Thathas, Paati, my Athais, Athimbers, Chittas and Chittis and ALL of my cousins who are so dear to me. Not to mention my darling friends - ALL of them who have stood by me in storms and sunshine. You know who you are.
Last but never the least, I have nothing but immense gratitude to EVERY single reader and bookstagrammer who picked up LJ's book and took it to heart. You guys are the real reason why this happened. So bas, thank you!
Im running out of space and words now, so I will stop because is too full to say anymore.
LJ's book is about women supporting women and finding our own identity in an increasingly isolating world, so it is only fitting to use this B&W pic with my book baby!
Xx
Writer Gal
#indianwriters
#writersoninstagram
#romancebooks
#romancenovels
#romancereads
#romanticsuspense
#romancebookstagram
#readromance
#contemporaryromance
#indianromancebook
#indianromancenovel
#aartivraman
#writergal
#indieauthorsofinstagram
#goodreads
#theworstdaughterever
#adaptation
#bollywood
Speaking of the Gram, I hope y'all are friends with me on Instagram. It's where I share LOTS of stuff about my life, my hair (yes, it's a thing) and… of course, bookish news and stuff. In fact, there is a secret thing happening THIS WEEKEND on Instagram that I think y'all will be totally excited for. So, come join me on Instagram?
---
Warrior Knight has been unleashed on the world! YEP!
The second book in the Knights of Justice is out now on Amazon and FREE to read on Kindle Unlimited. AND ON 30% discount if you want to buy the ebook or gift it to a beloved reader.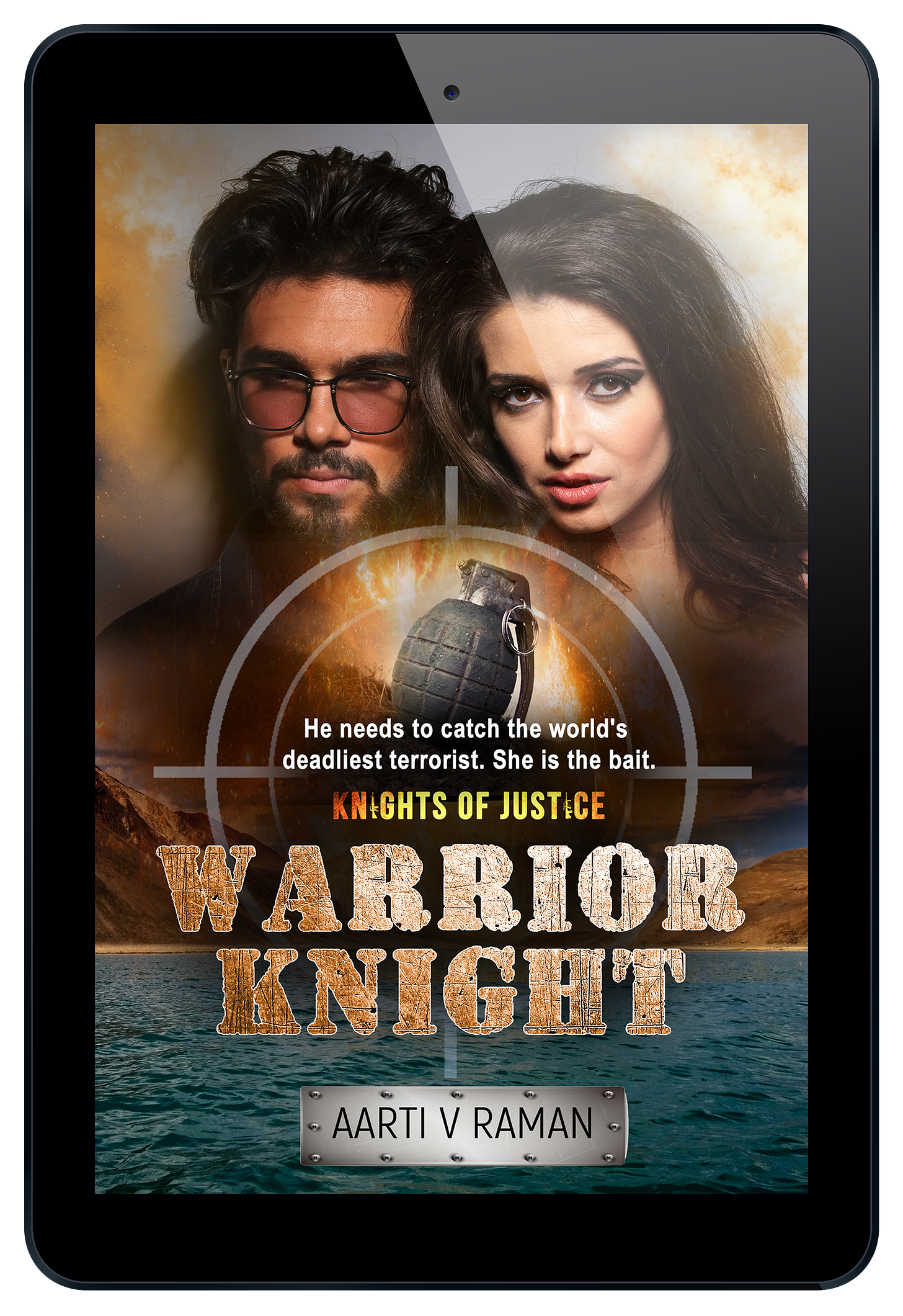 Here's the blurb to whet your appetite if you need any.
"Krivi?" Ziya asked, trying to even her tone. "You're going to defuse that IED?"
"Yeah," Krivi replied.
"Try and not blow us up to kingdom come, okay?"
Krivi Iyer retired from the spy business without bringing down his greatest enemy: The Woodpecker, a deadly terrorist whose specialty is bombs. His failure led to a personal tragedy that haunts Krivi, four years later.
So, when his old boss offers him an undercover assignment in Kashmir that might lead to catching The Woodpecker, Krivi comes out of retirement to take down his nemesis. 
He doesn't count on meeting Ziya Maarten, a woman suspected of having ties with The Woodpecker...
Or his unholy attraction to the strong, independent Ziya.
Srinagar's Goonj Enterprises manager, Ziya Maarten cannot understand why she is attracted to her newest employee.
Krivi Iyer is tall, dark and brooding but he shouldn't make her pulse race…and he should definitely not know how to defuse bombs!
He does both.
Ziya comes to know of Krivi's horrific past because it collides with a devastating tragedy in her present.
So, Ziya has to answer the toughest question of them all: How do you trust a man to avenge you when he knowingly broke your heart?
Warrior Knight is a high stakes, high octane, passionate romantic suspense spy thriller for fans of Nora Roberts and Robert Ludlum.
---
Writer Gal Tip
If you don't want to miss out on any release or Amazon-related news, just hit the follow button on my Amazon page in your respective country? The end result? You'll get an email from the Zon that looks like this! AND it includes recommendations of other amazing authors you'll enjoy if you love me. Easy peasy lemon squeezy peeps!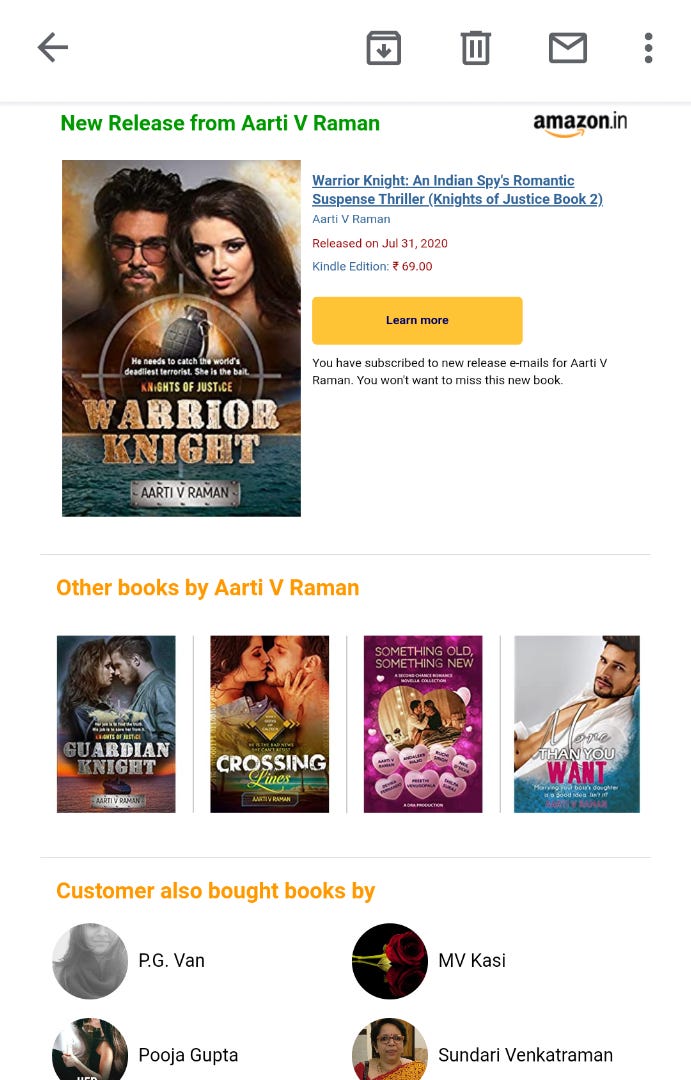 ---
In honor of Warrior Knight's epic release, Guardian Knight, the first book in the Knights of Justice is FREE TO DOWNLOAD for a super-limited time! So grab it now and read Brandon and Akira's explosive international spy romantic suspense thriller! Whoa, that's a mouthful, isn't it? Well, so are they!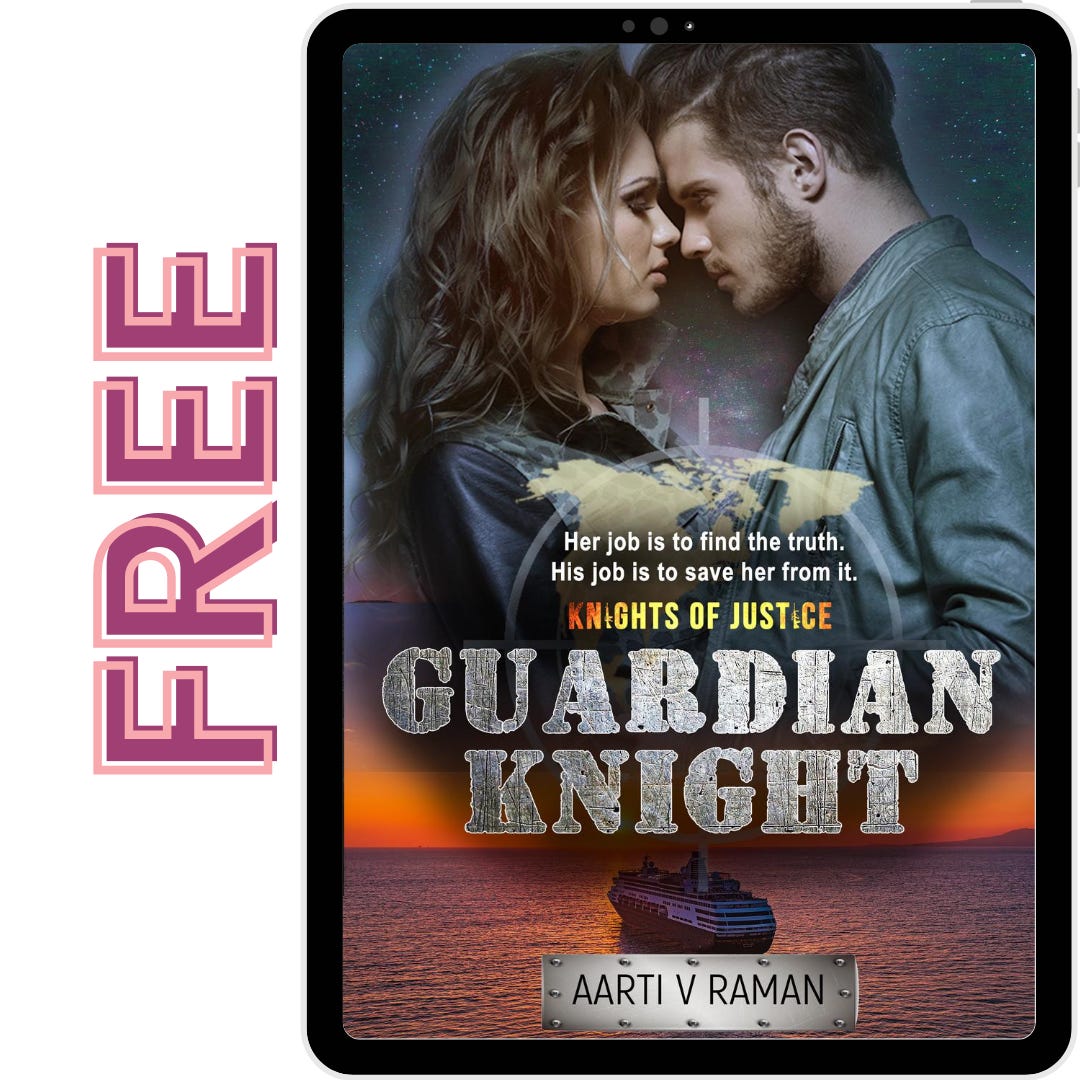 And here's the Guardian Knight blurb to whet your appetite for more:
Akira licked her lips and asked, "Who are you?"
Brandon waited a beat before answering. "I am the man who saved you."
Security expert Brandon Rice is a hardened soldier who's seen it all. But his latest assignment is also his toughest – Head of Security to Sebastian Delgado, the leader of San Magellan, a tiny country in South America slowly descending into political and economic turmoil.
His mission is to protect Sebastian Delgado from all threats.
He didn't count on a smart, distracting woman.
Mumbaikar Akira Naik is defined by her job as an experienced war reporter. And her latest assignment –interviewing Sebastian Delgado on a super-expensive yacht – should be a cakewalk.
Then she meets Delgado's arrogant, dangerous Head of Security.
Instant attraction explodes in a steamy moment of passion that ends badly…but tragedy strikes Sebastian, the country…even Akira herself.
So, Akira goes on a hunt for the truth surrounding this political conspiracy, which leads her from Mumbai, Paris, back to San Magellan…
Even a second chance with the mysterious and alluring Brandon Rice?
Guardian Knight is a high stakes, high octane, hot and passionate, opposites attract, thriller romance for fans of Nora Roberts and Robert Ludlum.
WOW!
This was a long and juicy letter, wasn't it? I hope you all enjoyed reading it. I am going to be writing in lots more this month (there are two more books going FREE in August ) and LOTS of Writer Gal new release adventures I hope y'all will come on, with me!
Till then, be safe and be awesome,
Xx
Writer Gal
---