Postmate, I hit a personal milestone
And Burn has a release date!
Mahalo,
I'm listening to the incredibly mesmerizing Tenet Soundtrack as I write this edition of The Writer Gal Letter. It's insanely hot here in Mumbai, with temps soaring to 40 degrees Celsius so I am trying my hardest to stay hydrated and eat cooling foods in order to avoid tummy bugs. (I had caught one before the last newsletter went out and it was not pleasant!).
I'm also deep in the middle of spinning BURN and this book…oh, it is giving me all the feelsy feels! Can't wait to share it with you, Postmate :)
Here's a little taste to tide you over and to entice you to pre-order this book coming on MAY 7!!
Burn Has A Release Date!
Ruthless Billionaires 2 - Burn comes out on May 7! Which is just a few weeks away. And I'm supercoiled with anxiety and love to make much more sense than I do, since this is my first proper release of the year :D
She was a beauty. Silver grey, like his suit, she looked like an exotic bird, with her clean lines, and the two fins that protruded at the back, a Menzo trademark. His favorite steering wheel gleamed with oil as it was polished by a teamster one last time.
Nihaal breathed deep.
The sound echoed in his ears.
He looked around. Taking in the fans and their screaming for the first and last time. After this minute they would be forgotten.
A last-minute check was going on under the hood of the Menzo 360 Firebird, the newest and latest and best of racing cars that had come from the Menzo stable.
Luke had demanded something extraordinary in this one. And Nihaal, using his automobile engineering expertise and his driver's knowledge, had created it. For Luke, and for himself.
Because this was his legacy. His triumph.
Nihaal laid a hand on the back of the car, and lovingly ran it over the entire line of its body, until he came to the doors. "You and me, baby." He murmured. "We're going to do it, today. And then two more times. We're going to be better than everybody else."
Because, that was the kicker. This car, the Firebird 360, had to win three times in order for all his ambitions to bear fruit. And nothing would stand in the way of that.
No one.
Here's Burn's blurb:
Nihaal Bhatnagar is Formula One's newest bad boy champion. He also has a scarred childhood and the life he left behind in India. After Nihaal's bright future and his ugly past collide right in the midst of his biggest race, Nihaal has a single choice.

Go back home. To Bhatnagar Champion Stud Farm in Kolkata. To a grown-up surgeon sister, he doesn't know anymore. To a manager who resents him. To a lawyer, Mili, who is as smart as she is fiery. And attracts him like an engine does oil.

When Nihaal's dead father backs this bad boy into a corner - Marry within two weeks or lose a billion-dollar inheritance, Nihaal bitterly makes a bold and unconventional choice. He coerces Mili, who is also the executor of the family's estate, to become his wife.

But there are secrets careening out of Bhatnagar Farm, a million-dollar Thoroughbred's fate in the balance, and the arranged marriage from hell. Nihaal's got one of two choices: Race or BURN.

Meet the Ruthless Billionaires. They are ruthless, dangerous, powerful, born of secrets, sins, and ambition. Tempting the one woman who makes them burn with dark desires in a lush and dangerous world. Hate is just another word for want and love is the ultimate chase for them.

BURN is a forced marriage, enemies to lovers billionaire romance cliffhanger duet. Nihaal and Mili's tempestuous story concludes in BLAZE.
I did a whole post on Instagram on Mili too, to reintroduce her to you, so here it is.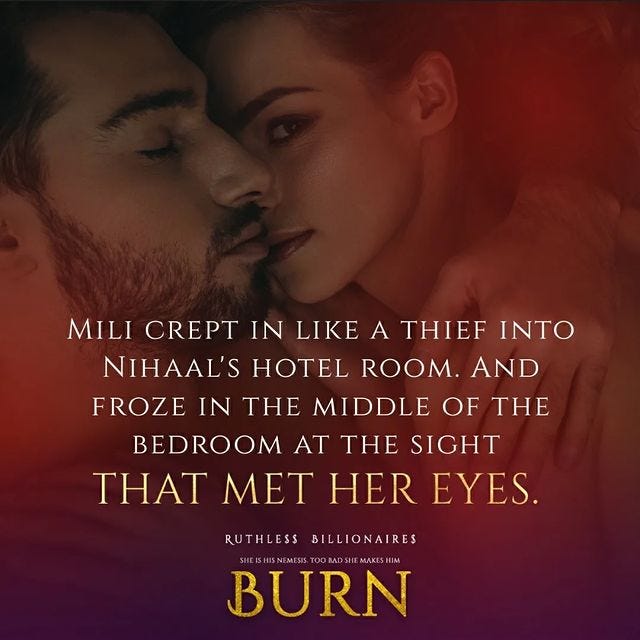 A post shared by Aarti V Raman | Romance Writer (
@aartivraman
)
Speaking of Instagram…
A 600$ Giveaway Is here
Do you like Romance books? Do you want to find some new authors to follow and love?

A group of Bestselling Romance Authors have got together to give away not one but TWO amazing prizes.

𝟭𝘀𝘁 𝗽𝗿𝗶𝘇𝗲 is $350 Amazon GC
𝟮𝗻𝗱 𝗽𝗿𝗶𝘇𝗲 is $250 Amazon GC.

All you have to do to enter is support the authors! Good luck to you all!
𝗘𝗻𝘁𝗲𝗿 𝗵𝗲𝗿𝗲 ➡️ https://bit.ly/InstaGiftAway
In Love With Her Millionaire Foe Hit Amazon US Top 100!!!!
This happened during the freebie run I had on the book back in early April and you all loved the book so much, it actually hit the Top 100 of THE WHOLE FREAKING STORE in The US! Now, this is a HUGEEEE deal for me because there are literally millions of books vying for the top 100 spot in the US and to get it for the weekend like I did, meant my book is being read and loved and appreciated. By you.
So THANK YOU, Postmate! Thank you so so so much!!!!
This is a freaking dream come true for me. A professional milestone that you made happen, Postmate. But April has been such a kind month for me I can only marvel at the blessings I have been granted.
To show my appreciation, I have kept the price for books 1 and 2 of the Foes series at only 99c and the rest of the 9 book series at 2.99 ONLY. So grab them all now.
More Rich Dudes for you
I made this fun little graphic to showcase my two new releases - Filthy Rich Billionaires and Wealthy Gods. And god…they look so pretty together. So I'm sharing them both with you. Right here! :) Just as a reminder that these book baddies are out in the world. The links to both books are available at the very bottom of this edition of TWGL so be sure to check them both out!
Writer Gal's Writer Pals Present
This week I have KU books, sales, new releases and so much more for you, Postmate. Come, check it out.
My amazingly funny author pal, Molly 'OHare has an insanely cute and smutty romance between an outdoor adventure shop owner and a plus-size fashionista. And it is all the feels and fun wrapped in a lol-com.
I am sharing this MC release by my pal Sofia Aves because of that smoking hot dude on the cover. He could do nothing in the book and I'd drool. Fortunately, he is a lost and brooding hero, just my kinds. So I know he is yours too. <3 And if that doesn't convince you, it's a Rumpeltstiltskin retelling so SIGN ME UP, am I right?!
Want to start bingeing on a bestselling series by the ever-awesome Tess Summer? I've got you. Grab the first of the San Diego Social Scene books for just 99c and thank me later for introducing you to a new fave author!
That's it for me in this edition of The Writer Gal Letter. I'll be back next week with ALL the BURN news and the global paperback links for Claim and Keep!
Till then, stay safe and awesome.
xx
Aarti