Discover more from The Writer Gal Letter
A regular love letter to my peeps about my upcoming releases, fave shows, and hot dudes, naps, and all the music that inspires my books!
Over 7,000 subscribers
No Other Love - Part 3
The Writer Gal Novella
Mahalo,
I'm writing this edition of The Writer Gal Letter listening to Dancing In the Moonlight by Toploader. And it never fails to remind me of such a beautiful, poignant scene from The Umbrella Academy where One and Three dance with each other! In home news, Booboo's exams are over and in work news, I am in the middle of THREE deadlines!
NOTE: If the newsletter is long-ish and showing as clipped in your inbox, please do click on display full message and get all the hot goss from Writer Gal :)
Question of the Day
What is your comfort read? The one book you always go back to, when you're in a slump or bored or sad or just want to read something insanely touching. For me, it's a toss-up between Maybe This Time by Jennifer Crusie and Inherited By Her Millionaire Foe by me. I don't know why but every time I read Roark and KC's angsty cowboy romance it really makes me feel good about myself and the world!
Now, onto the business of the day.
No Other Love - Chapter Three
Now, without any more fuss, let me share the next chapter of my sweetly angsty, second chance, marriage in trouble, small-town romance novella starring a desperately nerdy doctor and his feisty surgeon wife!
Author's Note: I'll be writing down the English translations of the Indian words to this story, as I introduce you to Indian culture :) If you'd like to read the previous chapter, click here.
Fun fact: This novella is actually set in a town founded by one of my oldest friends. I've been fascinated with Aronda since I heard her talk about it back when we studied together and wanted to set a story here forever! Vikrant and Anika's is the one finally. :D
'You didn't have to pick me up from the bus stand,' Anika protested a week later.

She watched in consternation and secret admiration as Vikrant picked up her bulging bag from the dusty pavement and slung it over his shoulder. He wasn't skinny like he'd been back in college. The man had filled out in all the right places, deliciously.

'It's no problem,' Vikrant said. 'It's the least I can do after inconveniencing you.' He indicated the direction in which they had to go and Anika preceded him.

'Besides.' His hand brushed against hers as he matched his longer stride to hers. 'We don't have ridesharing apps here, you know. I'm your designated driver for the duration of your stay.'

He gave her a lopsided smile and she felt sick looking at it. Sick with longing and regret and love that just wouldn't go.

His smile faded because she didn't smile back. She couldn't.

'The bus ride was okay?' he asked after a moment's pause.

'It was fine. We had traffic till we reached the freeway. You know how it is with Mumbai's peak hours.'

'I know. I don't miss it at all.'

They reached a shiny, black, open Jeep and Vikrant tossed her bag in the backseat. Which meant that this sexy beast of a vehicle was his. Her staid, intense, doctor husband's. Ex-husband.

Anika's eyes widened. 'What's this?' she asked.

'It's a Jeep Commander. I got it second-hand from a nearby garage and the garage mechanic and I spent a few weekends fixing it up. It's a hybrid.'

'I'm impressed, Vikrant. I didn't think you were capable of owning something as sexy as this.' She hopped into it and wore the seatbelt.

Unfortunately, her khaki shorts were not meant for Jeep rides and rode up indecently high. She blushed hard because Vikrant was staring at her displayed thighs.

'I haven't shaved in a few weeks,' she muttered and attempted to tug the hem of the shorts down.

'Don't bother on my account,' he said in a low voice. Then he unclenched the fist which held the Jeep keys and walked to the other side of the vehicle.

The words vibrated deep inside of Anika.

~~~~~~

Vikrant wore pressed jeans at four am in the morning along with a simple checked cotton shirt open at the throat. She could see his chest hair curling above the button and she wanted, so badly, to tug at it. To pull him closer and kiss him, and have him devour her whole.

Even exes could have sex right?

Desire churned messily inside her.

To combat it, she reached out and started the music system the exact same moment that he did.

He gave her a startled glance and took his hand back. 'Rider's choice,' he invited.

'I think I'll take a nap if it's far,' she said, pressing her hand close to the seat. The hand that had touched him.

'It's not very far. Twenty minutes at the most. Nothing's very far here.'

'Right.' Anika nodded. 'Music it is.'

~~~~~~

She pressed the play button on the system and Sting and The Police came on, singing about how fragile they all were. She leaned back against her seat and enjoyed the cold morning breeze against her body as Vikrant roared on empty roads toward their home.

Anika questioned her sanity in agreeing to this insane scheme.

She didn't like Vikrant's parents. They were judgmental, silently so. And they thought their son had made a mistake marrying a woman of questionable character, who was neither conservative nor religious, who actually belittled their customs and way of life.

His mother had actually told him that Anika was the worst wife for Vikrant, during the last visit. Anika shouldn't have heard it but she had.

And what followed was worse.

Vikrant had been silent.

He'd agreed with his beloved, precious mother.  

And that had broken Anika's trust in him like nothing ever could. She'd defended Vikrant and their relationship to her own dad, vehemently and so often that Vivek had finally given in and arranged for a grand reception at Mumbai's lushest hotel, a month after they were married.

She'd worn a fitting white ball-gown and Vikrant dazzled in a rented tuxedo.

It had been a magical night.

And she'd thought, Vikrant would do the same. Defend her when she wasn't around. Tell his parents she was good for him. She was enough for him. But he hadn't done that. He'd kept quiet and, in doing so, ruined her.

Anika blinked away unexpected tears as the Jeep jerked to a stop. There was no use rehashing the past. They were who they were. And now they were divorced. This was a play, a charade. And it would end soon enough.

Vikrant touched her thigh and Anika almost jumped out of her skin.

~~~~~~

'You okay?' he asked.

'I'm fine.' She carefully took his hand away in a casual gesture, she hoped. 'Just very tired and sleepy.'

'Cool. You can crash for a few hours. Aai, Baba won't be arriving till after lunch anyway.' Vikrant gave her a small, polite smile. 'And I've told them to behave so you have nothing to worry about.'

Her lips trembled and one tear streaked out before she could stop it. 'I don't need protection from anyone.' She dashed the tear away angrily. 'Not even your parents.'

'I know.' He closed his eyes and an expression of insane hurt crossed his face. 'That wasn't what I meant. Let's just grab some sleep, shall we? I'm tired too.'

Anika nodded shortly. She unclipped her seat belt, her belly burning with repressed emotions.

And somehow, Vikrant was there on her side before she could step out of the vehicle. His hands on her waist, biting into her skin as he plucked her from the seat and slid her length-wise down his legs before she landed on the ground.

She clutched at his forearms, staring at him the whole time. They were so close, one more inch and she'd be in his arms, tight against him. Hell, she could see it in his eyes. The thing that drove her, drove him too.

Need.

It was debilitating.

Vikrant stepped back, taking his hands off her waist, finger by finger. 'I really didn't mean to sound defensive, Anika,' he said softly. 'Please forgive me.'

He took her bag and trudged up the path to the place he called home, which had no place for her.

~~~~~

Anika was impressed with Vikrant's home. It was built cottage-style with three floors, a huge terraced roof with actual trees growing through the ground to the top, and a garden that even had a small vegetable patch. She could see construction was on for a marbled fountain and gave a small smile at the sight.

Vikrant had always wanted a marble fountain, ever since he'd seen one in the lobby of a five-star hotel where they'd attended a medical conference as students.

The house was sparsely furnished, with mosquito nets in every window and wide open doors that gave a stunning view of the garden. The wraparound porch had a hammock tied to one side with a free-standing lamp next to it. A half-open book rested on it.

She went to pick it up.

It was a sappy romance. She smiled some more. Some things never changed.

In her down time, she played squash or racquetball and wanted to go out. Vikrant loved staying home and watching a cricket match, a good book next to him. They were a classic case of opposites attract.

'That's not mine,' Vikrant said from behind her.

'I believe you.' Anika placed the book back where she'd found it. She gave the hammock a gentle tug and it swung in the breeze. 'This must be heaven, sleeping here.'

'When I'm not dying of mosquito bites,' he agreed, hands in pocket.

'I'll have to try it sometime then.'

'Your bed's ready for you.' He pointed up. 'First floor. First door on the left. I kept your bag there too.' He hesitated. 'It's got a balcony and a lovely view.'

'Awesome.' She smiled, delighted. 'Although I'm so tired I can sleep standing up.'

He smiled too, a little boyish. 'You know I'll catch you if you fall.'

~~~~~~

They looked away at the same time. Because this…this was something she was afraid of too. When they weren't fighting, they were so much in sync, it was scary. Part of it had to do with them both being doctors, a profession that had unique and very specific demands, but it also had to do with them - Vikrant and Anika - and the joy they found in each other.

Remembering that was a blow to her heart.

Anika picked up the book. 'I think I'll read a little before napping.'

'Sure. You do that.' Vikrant suggested. 'I'll go to the hospital and get my morning rounds done before lunch.'

'Alright. See you then.' And it was so foolish of her to be so excited about seeing him again, but there you go.

She was a fool when it came to him.

No Other Love continues next month.
A Burn Aesthetic Just For You
I'm deep in the writing cave bringing Nihaal and Mili to life. And I AM IN LOVE! Mostly because I get to see Tom Hardy AND Anthony Bridgerton for inspiration. Aah, the perils of being a romance writer.
Anyway, here's an angsty snippet for you to whet your appetite!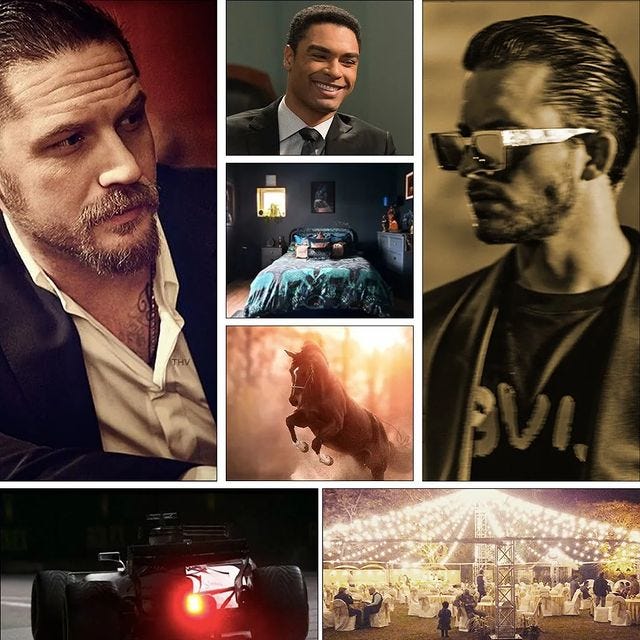 A post shared by Aarti V Raman | Romance Writer (
@aartivraman
)
Nihaal was coming home after three years. Although, it might as well be three centuries. He felt changed, altered…exhilarated by the things he'd done and seen in his years away at university.
Oxford, after all, was only for the most privileged of the few.
Now he was back for the summer holidays. To his little hometown of Alipur, a few miles outside of Kolkata, also known as The Paris of South Asia. To the tiny, claustrophobic social circle that consumed the Bhatnagars as a whole and his father in particular - Thoroughbred racing. As evidenced by the copious amounts of money his great-grandfather had spent in building up Bhatnagar Race and Stud Farm into a pedigreed institution. And every son, thereafter, did the same.
Nihaal braked the rented Jeep to a halt at the OK Corral of the first stables. His mind preoccupied with the difficult conversation he knew he was going to have with his parents.
He smelled the horse manure, fresh cut grass and muddy slopes first before he saw them. Then he heard the sound he loved and hated simultaneously.
A horse, a champion, neighed.
Then, and only then, did Nihaal hear the sound that changed the course of his life, his fate, and the man he was born to become.
A gunshot.
Without being aware, Nihaal abandoned the idling Jeep, leaped through the fences blindly in the direction of the shot. His boots sunk deep into the mud, he slipped and slid through the muck as he followed the groans of the animals around him.
What he saw, chilled him to the bone.
What he saw was his autocratic, demanding, infuriating father - Krishna Bhatnagar - patting the flanks of a beautiful Arabian as she twitched periodically. What he saw was the blood seeping out of the horse's side, the red mixing with the mud to become an ugly rust color.
What he saw was the gun. A smoking rifle, his father laid on his lap as he stroked the dying horse, with tears in his eyes.
What Nihaal saw was a father and a murderer.
Writer Gal's Writer Pals Present
This week's newsletter comes with a bunch of goodies, new releases and more.
First up is RJ Gray's Livewire. Which has a curvy girl heroine and we LOVE that, don't we, Postmate?
Then it's Anya Summer's next release in her Dungeon Singles, Midnight Highlander. LOOK. At. That. Scottish Hottie. Am I right?
Then, there's Sweet Obsession. A contemporary romance collection for JUST 99c.
That is it from me for this edition of The Writer Gal Letter, Postmate. I'll write in next week with more Burn news, a much-awaited surprise and this month's giveaway question!
Till then, stay safe and awesome.
xx
Aarti