Discover more from The Writer Gal Letter
A regular love letter to my peeps about my upcoming releases, fave shows, and hot dudes, naps, and all the music that inspires my books!
Over 7,000 subscribers
Jamie and Aaliya say Thank You!
And Ansh and Kahini say HELLO!!!
Mahalo!
I am listening to what is rapidly becoming my most favorite soundtrack of all time - Hamilton - as I write this update of The Writer Gal Letter. If you haven't watched this masterpiece of insanely beautiful songs and storytelling, those in India can do so on Hotstar!
I have a bunch more TV recommendations that I share on @aartivraman's Insta Stories! Join me there if you want to?
---
THE MILLIONAIRE FOE QUARTET BEGINS
This week, this month, heck. the rest of 2020 is ALL about the Millionaire Foes - Jamie, Ansh, Mason, and Jordan. Four sexy, self-made tycoons who will drive you insane while squeezing your hearts with their particular brand of awwwness! Now, doesn't that sound awesome?!
Jamie and Aaliya are already here and winning hearts all over Instagram. Here's a cherished review from a reviewer friend Kavita Rajesh!
My heart is done for Kavita
Reposted from
@kavitathereader
#bookreview
@aartivraman
The Review
'In Love with her Millionnaire Foe' By Aarti V Raman
I have read all of the authors books and am well versed with her style of writing and still in every book she manages to surprise me. To get to read this book as an eARC was really exciting and I thank the author for the same.
This is a story about Jamie, a self made millionaire who is an orphan with a rags to riches story gained due to his inimitable grit, hardwork passion and his angst against the Evertons who are a bigwig in the pharma industry. The Evertons did not want anyone out of their social circle to join their organization and thus began Jamie's journey to find himself and his place in the world. Amidst all this he falls in love with Aalia, a millionaire heiress, who has everything that normal people crave for but does she really have everything? What is Jamies' journey and what is AAliya's place in it? What happens in this journey is what makes this story unique. To find these answers you will have to read this story.
The story is filled with the many flavours of life, like love, passion, revenge and regret. Weaving between the past and the present the reader is taken on a journey through Jamies's life and the love life with Aaliya. The fact that humans are a victim of circumstances is so beautifully depicted in the story. The story does remind you of the Karna of the Mahabharata and yet it is so different. Although a contemporary romantic fiction, the story is so compelling that it got difficult to put down the story once I started reading it. The narration, characterization and the descriptions are so visual that it played in front of my eyes like a movie. I would love to see this story come alive on a screen someday.
If you love to read romantic stories with more elements along with romance then this is the story for you. I definitely would recommend this read for all the lovers of fiction.
#contemporaryfiction
#ebook
#KindleUnlimited
#lovereading
#reviewcopies
#booksofinstagram
#readersofinstagram
#authorsofinstagram
#fiction
#booklove
#kavitareadsnreviews
#bookstagram
#readers
#reviewer
And the book's already SITTING ON ALL THE BESTSELLER CHARTS, all thanks to each and every one of you who have faithfully and lovingly been there with me over my last eight years of being Writer Gal!
I realize as I write this letter that I haven't sent the ARC out to those of you who signed up and I'm SO SORRY about that!
(Blame it on birthday/lizard/release week brain). Expect an email from me with the ARCs soon, peeps. And please do forgive me for my oversight. I'll ensure it doesn't happen again!
A small request: To those of you who've read my books, I'd absolutely love it if you could just share a quick rating and one-liner review for In Love With Her Millionaire Foe. Write back to me or flip to the end of the book to access the link.
Or click on the button below.
---
With The Millionaire Foe Quartet, I'm trying something insane and fun, for you my dear reader friend, and me, Writer Gal. ALL four books in the Quartet will release within WEEKS of each other!
So, In Love With Her Millionaire Foe is followed by In Debt To Her Millionaire Foe - releasing October 23, 2020.
Meet Ansh, the hotelier tycoon with a huge chip on his shoulder, and his songbird Kahini Palekar, the OG lost girl of his adolescence who's bloomed into a lovely young woman.
Ansh is just so completely the alpha hero who always tries to do the right thing, even though he has just the littlest ADHD! And Kahini is one of the strongest women it's been my privilege to bring to life, especially considering where and how Ansh and Kahini meet each other…again…after spending years away from each other.
Here's the cover for In Debt To Her Millionaire Foe, that I'm sharing with you guys FIRST! Before I put it up on social media.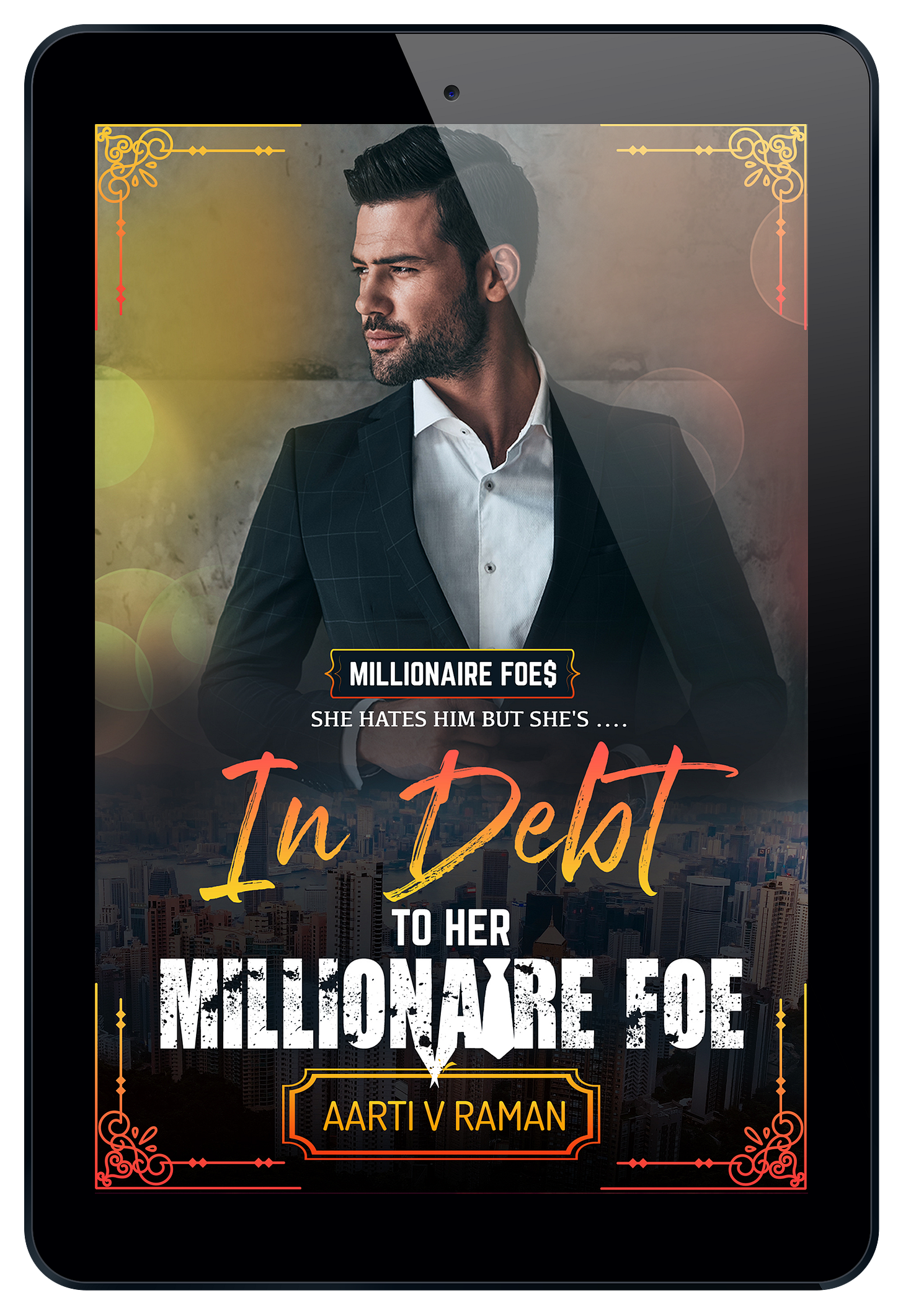 And here's the Goodreads page link for it, so you can add the book to your TBR while you devour Jamie and Aaliya's story and wait for it to come out on October 23!
---
Free Books' News
There are just a couple books - The Soldier Prince and Roark - left for me to share with you. And, worry not, both of them are coming to you soon. If you've been following me from 2018 then you know how close to my heart Alexander and Sasha's story is and what hope I had when I first published it!
I sincerely hope that, two years later, you guys still love Soldier Prince and Roark and his KC and take them to heart.
I'll write in next with a juicy Ansh excerpt (I'm in the middle of editing In Debt!) and more news.
Stay safe and awesome till next time!
Xx
Writer Gal