Discover more from The Writer Gal Letter
A regular love letter to my peeps about my upcoming releases, fave shows, and hot dudes, naps, and all the music that inspires my books!
Over 7,000 subscribers
Jamie and Aaliya <3 are a legit Amazon India Bestseller…
And Roark is free for download!
Mahalo,
I'm writing this edition of the Writer Gal Letter listening to this INSANELY groovy playlist. The Work It soundtrack. And, let me just say this, the movie is freaking cute too.
In fact, I was all shades of green as I saw Jordan Fisher (John Ambrose Mclaren!!!) twist and turn his bod into the most amazing shapes, dancing. It's been a while since a dance musical movie had me grinning so much, and so I suggest you watch it too on Netflix.
This edition is just a mid-month update about a few things Writer Gal. So, let's just dive into them, shall we?
---
Hello shoulder pain, my old friend
As any workaholic adult in her thirties, I, too, am plagued by aches and pains all over my body. But last week was particularly horrible as my shoulder pain flared up so badly I had to hit pause on all work! Like, no writing, no edits, definitely no social media!
The downside? I couldn't send the ARC of In Love With to those of you who so graciously and eagerly asked for it. I'm sending it today to you! I'm so sorry! I really am but when you can't move your shoulder it's kind of hard to access the keyboard on the laptop :/
I was worried there for a hot minute about getting the next book ready in time, so I pushed the release by TWO days! This is because I need to be able to give you the best possible version of the story I can when it comes out.
On the upside? Out of sheer relief, I slept like a dead person and used the heating pad like it was going out of style. And I'm happy to report that the pain is under control and my energy levels are right where they need to be in order to ready Ansh and Kahini's romance for release :D
Speaking of Ansh, scroll down for a small sneak peek from In Debt To Her Millionaire Foe I'm sharing only with you, my Postmate.
---
In Love With Her Millionaire Foe Makes AMAZON INDIA BESTSELLER!
I AM BEYOND THRILLED to share this particular news with you guys! Jamie and Aaliya are RULING Amazon India's charts – in ALL the romance categories.
And, honestly, these rankings belong to you, my dearest reader friend. You are who I write for.
And you have taken In Love With to the heights it has gone within DAYS of release.
As of writing this letter, the book's #1 in romance categories and has consistently stayed in the TOP 200 in THE WHOLE KINDLE STORE!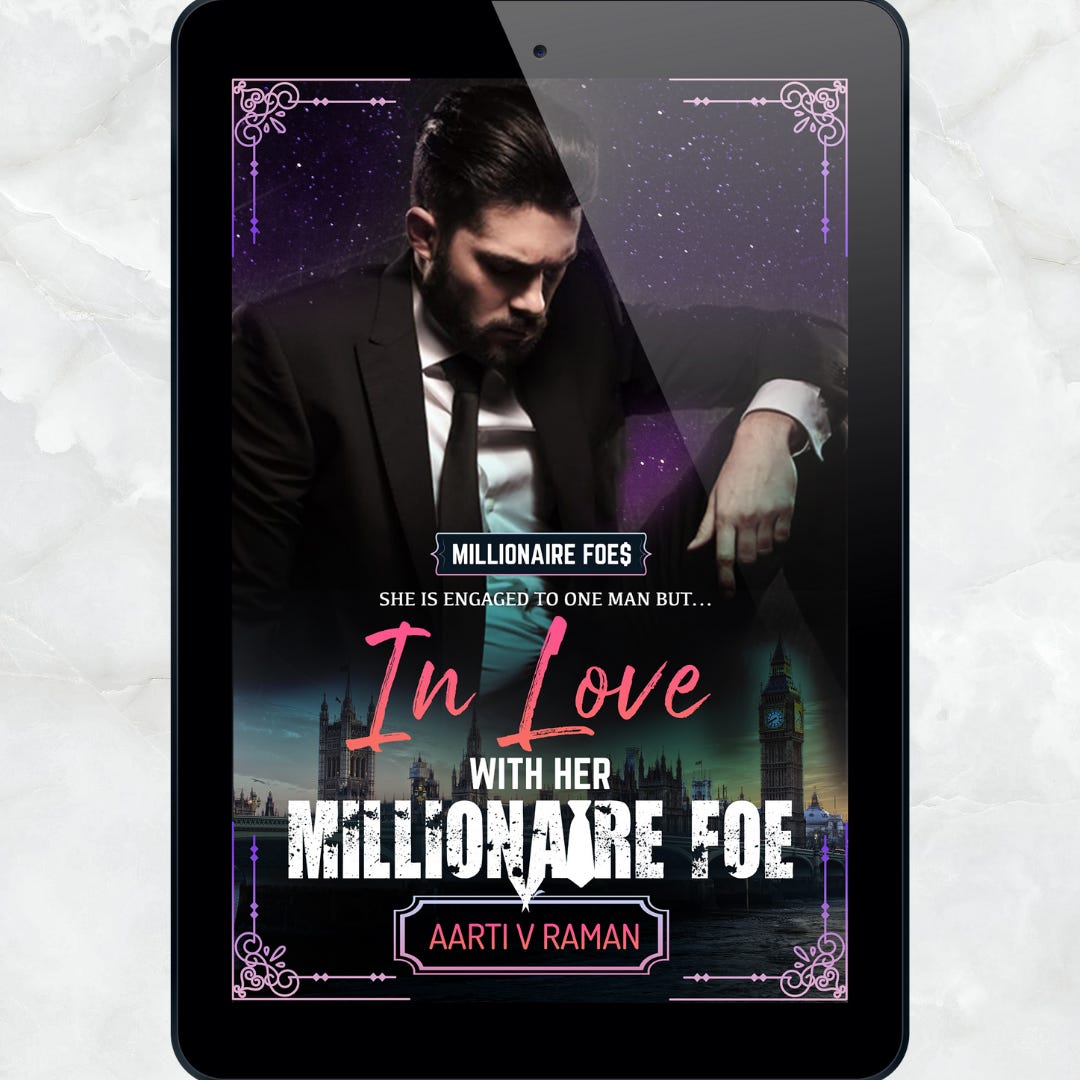 Tbh, I kind of feel bad that I haven't been more consistent with releasing a full series of romances (I'm looking at the Geeks and Royals, Aarti) since you are consistently loving the Millionaire Foes so hard. I promise you, solemnly, that I'll do better when it comes to releasing books in series.
But seriously, THANK YOU, THANK YOU, THANK YOU so much for propelling this story and this series to such a strong start, my awesome reader friend. I can't express my gratitude in words that could do justice to how happy I really feel! JUST A MASSIVE HUG TO YOU!
The book's still on sale as of writing this letter, but it will go to full price soon enough so use the download button below if you want a collector's copy of In Love With :) 
Writing Update: Altho, more and more, Drake and Michael are playing havoc in my head…insisting and annoying me into telling their stories. :P So you never know what I'll share soon in future editions…
---
An In Debt To Her Millionaire Foe Excerpt
Now, as promised, here's a teeny excerpt from the next Millionaire Foe Quartet hunk, Ansh!
But before I share it, here's the backgrounder Insta post I did on explaining how and why Ansh, the angry young man, came to be.
Introducing Ansh Thackeray. Former gangster risen from the slums of Mumbai. (Possible murderer?!) Successful businessman. And... Kahini's nemesis and savior.
Ansh doesn't have any mythological parallels like Jamie, but oh, Ansh is every single Angry Young Man I've ever loved starting with Amitabh in all his many and gloried roles. Ansh is HUNGRY and SMART and RUTHLESS in all the best and worst ways, as he builds a freaking empire of hotel chains across the world with his partner.
He is also a super softy when it comes to the people he cares about - especially his songbird, Kahini Palekar. The girl he left behind as he forged this wealthy new beginning for himself.
Except, he's never really forgotten Kahini. And Kahini hasn't forgotten him either. Considering she holds him responsible for the nightmare her life has become.
It's been the best kind of fun to have these two wary creatures circle each other while they slay their demons and give in to their heart's desire for each other.
In Debt To Her Millionaire Foe is BOOK 2 in the Millionaire Foe Quartet, releasing in October. The pre-order link is in my bio. I hope you guys enjoy Ansh and Kahini's emotional tearjerker as much as you have Jamie and Aaliya!
Xx
Writer Gal
.
.
.
.
#indianromance
#indiandrama
#mumbaiwriters
#romancebookseries
#indianwriters
#romancereads
#steamyromance
#contemporaryromance
#kindleromance
#romancebookstagram
#booklovers
#readingissexy
#anshkahini
#romantichero
#saturdayvibes
Yes, yes I know that graphic mentions the release date as 22 October and I'm going to do my DAMNDEST to make it happen, for you. But I don't want to do it at the cost of my health and the other two releases. Mason and Jordan need me whole and healthy so I can release their stories on time! :D
Anyway, back to Ansh and his songbird Kahini.
Ansh considered himself to be a normally sharp man. His IQ was in the triple figures once he'd been tested for it. And he'd used his IQ and drive to become a formidable hotelier. He had made it his business to read people.
He understood the workings of a person after spending five minutes with them, and could, at a glance guess what their weak spot was.
He was considered smart and ruthless by fellow hotel business owners.
Not to mention the fearsome reputation he'd gained as a teenager who'd roamed the streets of Mumbai with a switchblade in one pocket and a brash attitude in the other.
Ansh knew people, knew what made them tick.
And he'd known this woman since she was a wee little thing.
And yet, the Kahini he'd known and left seven years ago weeping at her brother's funeral was not the same woman who'd just stormed out of this shady dressing room. That girl had been devastated, shattered by the loss of her big brother and she'd been inconsolable in that grief.
That girl had had pride and grit.
This Kahini was …beaten. Worn down in some essential way he couldn't fathom.
Any other woman would have shown some kind of emotional reaction at just having escaped grievous assault at the hands of her employer.
But not Kahini. She had collected her money and makeup, of all, things and walked out with a nonchalance Ansh found hard to believe.
Could she really be so blasé about the life-altering incident that had just taken place? And what was that fucking crack she'd made about surviving? What was that about?
Realizing standing here was doing no one any good, he let out a grim breath and stepped around the stirring would-be rapist. He considered breaking every single bone in the man's hands just to let him know what he was dealing with.
But in the end, he just squatted and dragged Remy's semi-conscious form to his face. So the other man could see him clearly in the harsh light.
Could see the deadly intent in his eyes.
"My name is Devansh Thackeray," he began in an even tone. "If you ever come near Kahini again, you'll have me to deal with me. If you don't know who I am, ask anyone in Tony Brianza's gang down at Bagmalo Beach. I helped Tony take down his old boss and he owes me one." Then he placed Remy down with care and stood up in a fluid movement that was an innate part of him and strode out of the dressing room.
Intent on catching up with his quarry before she disappeared again on him.
You can add In Debt To Her Millionaire Foe to your Goodreads button by hitting the pretty button below.
And even pre-order it at INR 49 and $0.99 worldwide, using this country-specific buy link. Pre-order In Debt To Her Millionaire Foe
---
Roark's Free For A Limited Time
Roark is the LAST book left in my backlist to be shared here (and one of my secret booboos)! And it's free for a limited time! So grab it now?
Also, if you can, please write back to me after reading it? I have always felt like Roark and Days of Our Lives have never gotten their just due and I just want to know if/maybe you guys (dis)liked KC and Roark and the Thanjavur Thunders?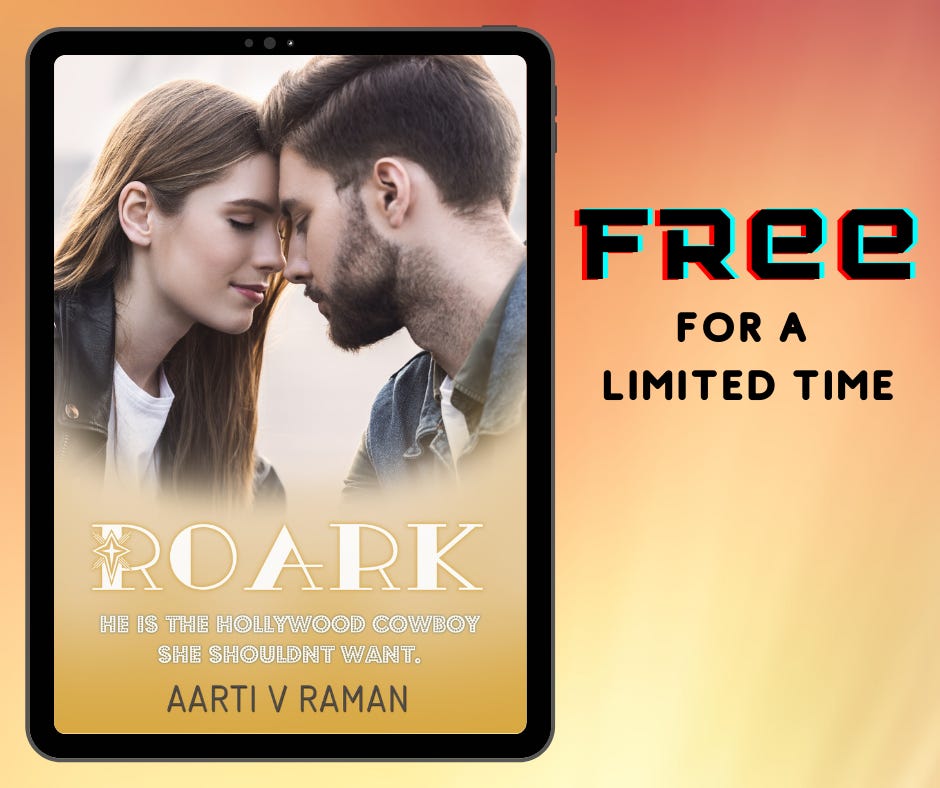 I'm also sharing the blurb below to whet your appetite:
He is a Hollywood billionaire…and her worst nightmare come home. 

Rancher KC Brent has a workplace problem.
Her billionaire boss and childhood love is coming home to the Texas ranch he left years ago.
Worse, he hates her living guts for choosing to stay back in the small town he can't stand.
Things get really confusing for KC because bad boy Roark seems to have a powerful desire for her…and a gorgeous blond roommate.
Can she trust the needs of her own body and Roark's promises when he has so many secrets?
Jacob Roark Jensen hung up his cowboy boots when he chose to become a hotshot Hollywood scriptwriter.
He also left behind tomboy KC – who's never even ventured beyond the borders of the sprawling Texas ranch he owns.
Now his tomboy has blossomed into an incredibly smart and desirable woman…and Roark wants her beyond all reason.
Except, danger has followed Roark back to Bitterwater, Texas.
And KC has more to fear than losing her heart and soul to the billionaire cowboy.
Can these sworn enemies give each other their hearts or will it be World War Three all over again?
That's it from me for this edition of the Writer Gal Letter. I'll write in with GOOD news about Ansh's release, I hope, and a little extra something for you, my Postmate from Jamie and Aaliya's life…
Till then, stay safe and awesome.
Xx
Writer Gal