Discover more from The Writer Gal Letter
A regular love letter to my peeps about my upcoming releases, fave shows, and hot dudes, naps, and all the music that inspires my books!
Over 7,000 subscribers
It's Stuff Your Reader With 200+ Romances Day!
...And Sexy Times With The Geeks of Caltech.
Mahalo,
I'm writing this Writer Gal Letter listening to Ariana Grande's Dangerous Woman, which is 100% going to make it into the LAST Millionaire Foe's playlist. If you, like most of my rabid reader friends, want to know more about the Millionaire Foe Quartet, then please do consider joining Writer Gal's Reader Pals. I've already done the cover reveals of the Quartet over there and I'll be sharing hot excerpts with them.
There is also a special exclusive offer that is applicable to YOU if you're a Writer Gal's Reader Pal founding member.
As one of the first 100 Founding Member of the Writer Gal's Reader Pal Group you will get LIFETIME access to MY ENTIRE BACKLIST and future releases!
If this excites you, please hit the blue button and come be part of an exciting adventure with Writer Gal.
---
The Geeks of Caltech Get Their Own Extended Epilogues
So, after much deliberation and because I am bingeing hard on Nora Roberts, I decided that our beloved Geeks of Caltech should get their epilogues - little glimpses of the future and where each couple is headed.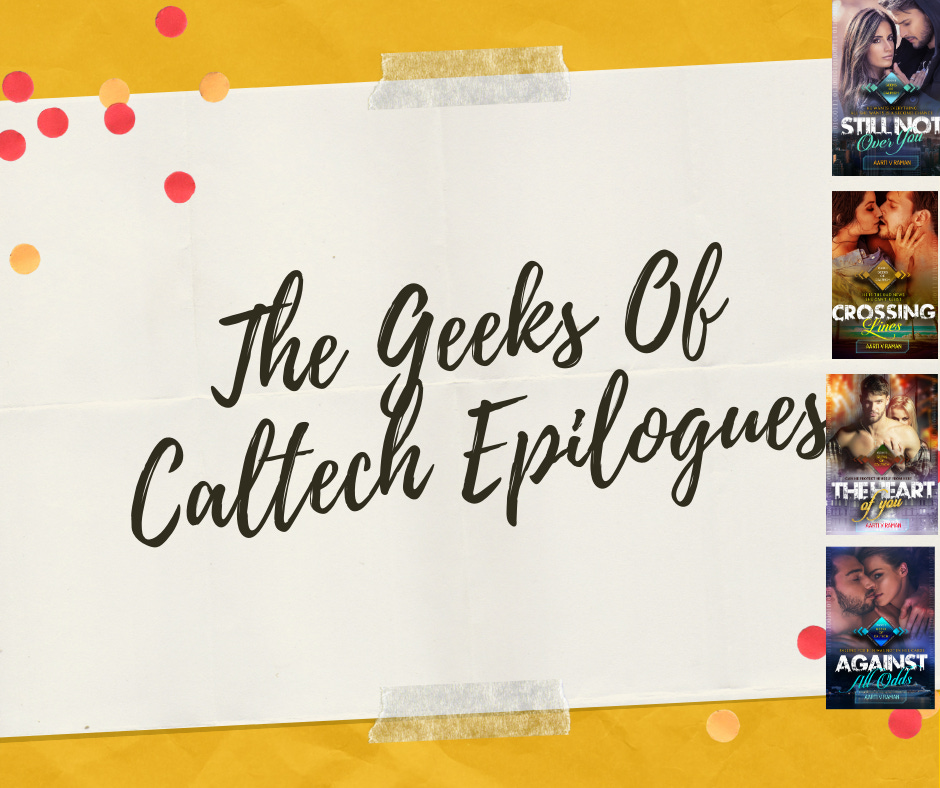 These epilogues are ALREADY added to the latest editions of Still Not Over You, Crossing Lines, The Heart of You - so you can definitely download them now and flip thru to the end to check what each Geek and his woman has been up to.
For my KU reader - you'll have to return your existing copy, delete it from your devices AND cloud and then request a fresh copy. It should give you the one with the epilogue.
If you have any trouble, do let me know and I'll be happy to email you the epilogue personally!
Against All Odds' Bharat and Sophia are giving me a *little* starting trouble so I am still mulling over what their mini-HEA is. I'll keep you updated on that.
But, to whet your appetite I'm sharing a scene from Dev and Zara in Still Not Over You's epilogue.
"It's almost midnight," he answered.
Zara stopped trying to drive him crazy. Peered at the digital alarm clock on their nightstand. "It's like three-thirty, Dev. It's not midnight." She was clearly amused.
Dev looked at the alarm clock too. But his attention was caught by a silver picture frame which held the family photo from last year's AllMart Annual Christmas party stood pride of place. Lily looked resplendent in her black dress and Bret was a miniature version of Aadi, at that age while Auntie V and Ma D'Sa and Grandpa Sundar beamed silly. It had been such a lovely Christmas night.
In fact, all of the nights had been quite lovely for the last year.
Dev grinned. "You don't remember, do you?"
"I have a great memory." She played with the ends of his hair. "You're the one with addled brains. You can't even read the time, sweetie."
He leaned down and kissed her hard. "No, sweetie." He punctuated both words with more kisses.
She responded so enthusiastically, he had to remember to stop kissing her so they could talk. She made a protesting sound when he pulled away from her.
"What's gotten into you, Dev?"
"Today's the day we met," he replied solemnly.
Brushing her hair away from her face and spreading it on the pillow, where it lay like black night against white satin. Dev was so absorbed in his task that he missed the sheer incredulity on her face.
"Okay. Seriously." Zara tried to budge him off. "You're talking in riddles and I am sleepy. What's going on, Dev Banerjee?" She demanded. She narrowed her golden eyes. "Are you drunk?" She leaned closer and tried to sniff at him.
"What, no!" He laughed and tried to settle her beneath him.
When she still struggled against him, the sheets tangling between them, he pushed them down. And then held her in place by the simple expedient of framing her face between his hands. Forcing her to look at him.
Zara stopped glaring enough to see him. Really see him.
And Dev hoped she saw it. His heart.
"Today's the day you walked back into my bar and my life…and started it again."
Zara swallowed.
"Good," he said briskly. "That shut you up."
"Dev," she said shakily, embracing him. Trying to bring him closer for a kiss. A much-needed kiss.
"If I kiss you, we won't stop."
"Then don't," she whispered. "Don't ever stop."
Now isn't that just like Dev to tease and love Zara till she can't think of anyone but him? I had ALL the feels when I wrote this epilogue and I hope you have them too while reading it.
---
Speaking of Dev and Zara…Today is Stuff Your EReader Day aka the day YOU, my dear reader friend, get the exciting opportunity to grab over 200+ romances ACROSS genres ALL FOR FREE.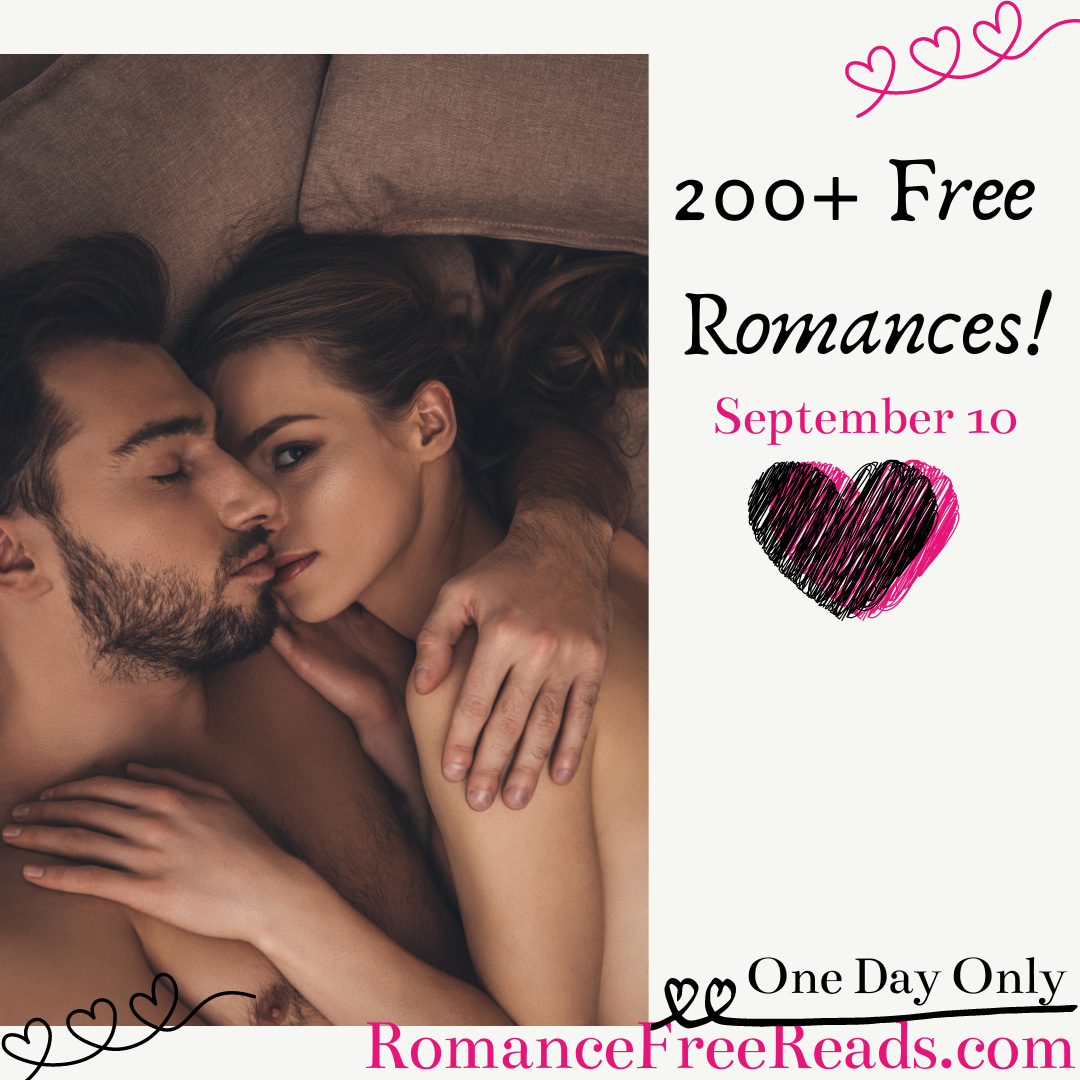 Still Not Over You and my sneaky bestseller More Than You Want are part of this INSANE deal along with romances from some incredibly talented and diverse writer friends! So check them out - they are free and discover a new favorite writer or 100! :D

Feel free to share this with all your romance-loving friends so more readers discover the BEST ROMANCE writers!
Just hit search for my name and you can download both my book babies for free, along with 200+ others! I know I am stuffing my Kindle tonight.
---
Here's a little-known story about MTYW as I affectionately call it. I wrote this book as an experiment to understand the romantic comedy genre and gave it a gender-flipped twist - where the heroine Rachel Strand proposes a marriage of convenience to sexy executive Jake Cavanaugh.
What follows is a barrel of laughs and breathless climaxes. (Seriously).
Anyway, I published MTYW on a lark too! All my attention was on The Soldier Prince which released about two weeks after MTYW did.
Except, without me noticing it, More Than You Want quietly hit #52 in The Amazon INDIA KINDLE STORE and stayed for weeks!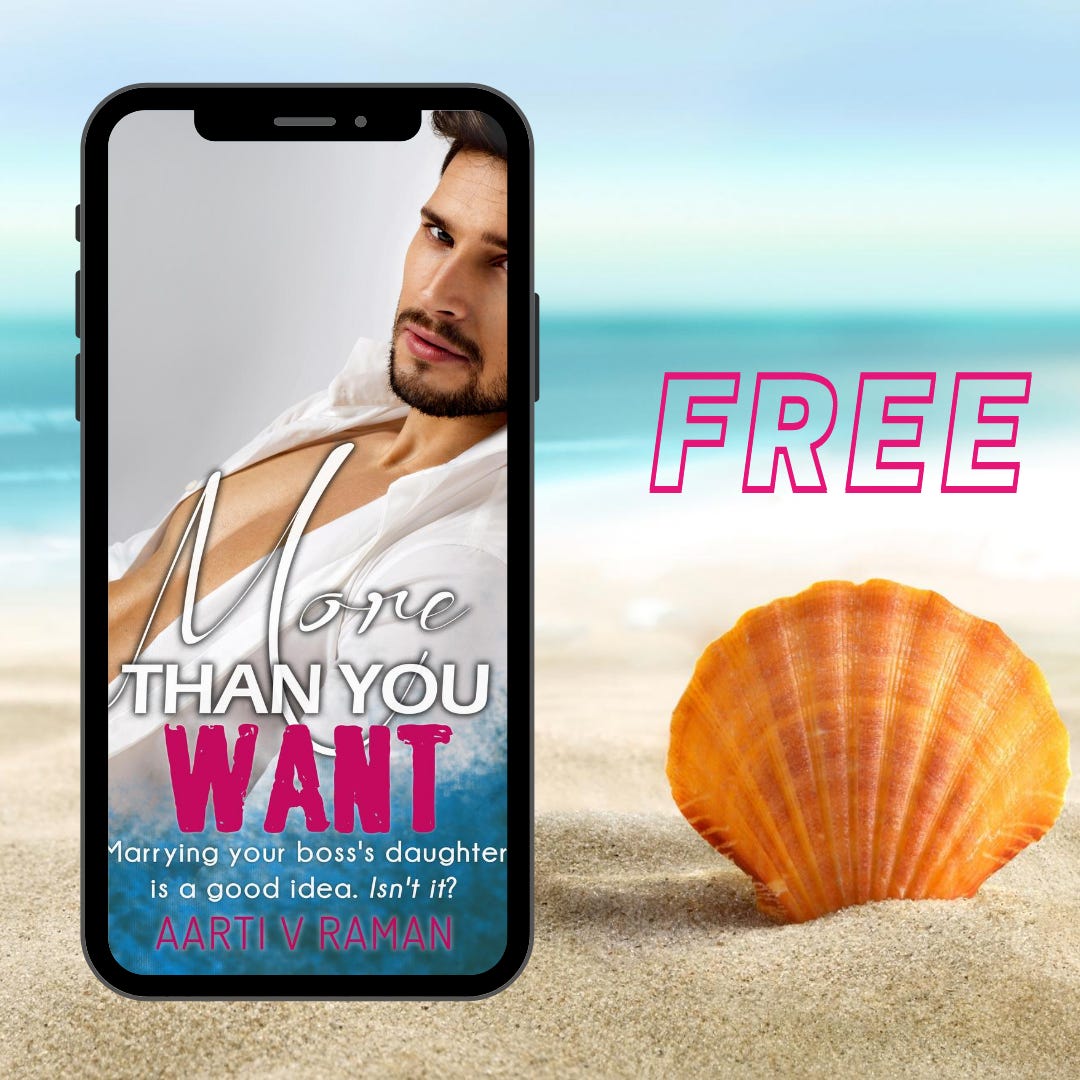 This book taught me a very valuable lesson! YOU, MY DEAR READER FRIEND, ARE THE BEST AND READ EVERYTHING I WRITE!
And, to repay that kindness this week, More Than You Want is FREE for a limited time. It comes with a spanking new official playlist which I really hope you enjoy. It's *so* Jake and Rachel!

This is all the news and goodies I have for you guys in this edition of The Writer Gal Letter.
Stay safe and awesome till next time.
Xx
Writer Gal