Discover more from The Writer Gal Letter
A regular love letter to my peeps about my upcoming releases, fave shows, and hot dudes, naps, and all the music that inspires my books!
Over 7,000 subscribers
I like me better when I'm with you!
Plus release day Giveaway news and more!
Mahalo,
I'm listening to Love Like This by Kodaline as I write this edition of The Writer Gal Letter, which was in the draft section of the You're Just Not My Type playlist. (The final one is in the pink button. Check it out?)
I know I'm late in sending this edition, Postmate but you'll forgive me when you come to know of my reasons! :) Because, it has been a week, Postmate. It's been a freaking month.
We have had so much family come home from overseas in August. My cousins from New York came to visit us at the beginning of the month and, I kid you NOT, my mom pulled the first chapter scene that Niva's mom pulls on her on me - drafting me to clean the whole dang house top to bottom as well as pitch in with the cooking. (I mean, I don't mind but ya girl is not exactly domesticated, is she? :P)
Read Chapter One of You're Just Not My Type Here
Read You're Just Not My Type's Chapter Two Here
Once they departed, it was time to get ready for You're Just Not My Type's release. And frantically figure out the ARC sitch, create like a MILLION different types of content - videos and posts and my favorite of them all, TWGLs to you, Postmate.
Once that was done, it was time to get the house in shipshape for the GUEST OF HONOR of our little family. My two-year-old nephew has come to India for the first time EVER from Germany on Saturday. He's my cousin's little kiddo (I'm his aunt) so he is my kiddo by extension. And I have spent the last few days hanging out with my family.
I spent all of Friday helping Booboo (who's quite the artist and visionary) to decorate the house for Kiddo's arrival. And this is what we created. :)
Kiddo already loves the construction business (much like Jordan from In Bed With Her Millionaire Foe) and his favorite thing in the world is a crane. So, I took this picture of a crane and the moon for him. :D And he was delighted!
I am also reading the smoking, scorching, spicy HOT ARC of the Writer Gal Writer Pal release I'm sharing down below. You do not want to miss this, Postmate.
Check the Double Release Giveaway here!
But, before we get to that, the incredible New York Times bestselling author Skye Warren, writer of The Pawn trilogy (which you should check out right after you're done with YJNTM) has a new release - Red Flags - out too. And we are running a joint giveaway on Instagram to celebrate our respective releases.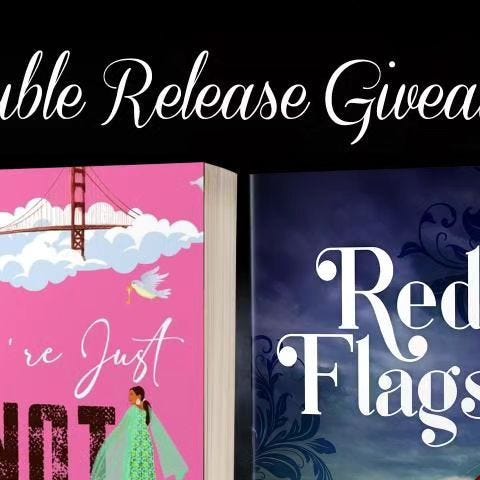 So many of you have loved You're Just Not My Type across the world, that the book got as low as 5000 on Amazon Canada (thank you, Canada!!!) and is holding SUPER steady on Amazon US in the low 40,000s. (That's 40,000 from the five million+ books in Kinde Unlimited) and Top 100 on Amazon India!
You, Postmate, are helping me take over the book world. I cannot thank you enough for the love you've shown me.
A scorching hot snippet from You're Just Not My Type
"Say it," he growled.

"No." I was defiant. I was trembling with anticipation and anger and not a little fear from disobeying him. But I wasn't going to let him boss me around…was I?

He leaned in close, so close I could see the pores under his beard. They looked inviting too. He was far too close and not close enough. "Say it, Niva." His lips whispered an inch away from mine, our breaths mingling in the same air. Tantalizing and torturing at the same time. Tempting me to do what he wanted.

Everything was hot and turgid and syrupy.

As if this was a dream within a dream.

In answer, I yanked him closer and leaped into his lap and attacked his mouth.

He moved his hand over my sleep shorts, squeezing my butt. Tight and hard. Murmured hmmmm in an approving way.

I was at his mouth, like a woman starving. Kissing the corners of his lips, nibbling the juicy centers and then straight up tonguing him down. His hand shot up to my hair in a classic Max move and he yanked my head back. I swear, I melted into a puddle on his lap! It was so hot and dominating.

Our eye contact was intense, scary. Good scary.

As if he saw things in me, I didn't know myself and liked them.

He nuzzled my jaw. In a surprisingly fragile gesture. "You smell so good, Niva. I can't get over how sweet you smell."

My eyes flew open at the unexpectedly sweet compliment, but my body had other ideas. It ground against Max in the chair, which squeaked in the most embarrassing way. I did not care.

Neither did he, apparently.

His cock was impressive and growing larger by the second as I attacked his mouth, his jaw, his throat. I tossed the tie away and grabbed his shirtfront. He had a built chest for a geeky executive in sweater vests and glasses.

He cupped my throat and kissed me slowly. Softly. His tongue taking shallow lips of my mouth, savoring me.

My heart thickened to molasses. I was a fly stuck in amber and could only wait for the next thing to happen to me.

His hand did not move from my butt, except to go lower and higher. Squeezing me and feeling me up till I was ready to combust from the tension. The ache between my legs was torture, wetting me from the inside in a way I hadn't experienced in a long time.

He fingered the edges of the sleep shorts.

"Nice color. Grey satin looks cute on you," he murmured near my ear.

I groaned. And ground against him some more. I was almost, almost ready to come.

"Hurry up," I ordered him.

I writhed against him, my thighs squeezing against his legs as I tried to find a release for the friction outside and the fire inside.

He laughed. The bastard laughed in my ear and kissed the lobe before sucking it between his teeth. Then, releasing it.

I gushed like a faucet had opened inside me on that gesture alone.

He touched some of the moisture between us. "Messy looks good on you too, baby."

Tropes in YJNTM are grumpy/sunshine, enemies to lovers, forced proximity, secret cinnamon roll hero, only one bed, fake-ish dating, boss/employee, he falls first but doesn't know it, NO third act breakup, and slow burn spice.

You're Just Not My Type country-wise links are here:
Writer Gal's Writer Pal Present
ICYDK, Skye Warren's Red Flags AND Amanda Richardson's Marry Lies - whose ARCs I have been devouring every spare moment - have both been released this week. The covers, the DAMAGED heroes, and the sunshine heroines, the atmosphere of darkness and foreboding and hears in danger…it's a FEAST of dark and filthy romance, Postmate.
---
That is all the news I have for you, Postmate. When I write next I will have You're Just Not My Type AND Ruthless Billionaires' paperback news, I promise. And a super special project announcement I'm so honored to be a part of (and which you will love!)
Till then, eat brownies (cuz I'm having some while writing this edition)
xx
Aarti