Discover more from The Writer Gal Letter
A regular love letter to my peeps about my upcoming releases, fave shows, and hot dudes, naps, and all the music that inspires my books!
Over 7,000 subscribers
I Have A Giftaway For You...
And You Get To See In Love With Her Millionaire Foe's Cover NOW!
Mahalo,
I'm writing this Writer Gal Letter listening to the incredibly sexy and evocative playlist I've compiled to go with my upcoming release In Love With Her Millionaire Foe - first in the Millionaire Foe Quartet! Listen to the playlist here.
And while you're at it, you can feast, yes, feast on the GORGEOUS cover that my designer Merril Anil has come up with for Jamie and Aaliya's story.
Feel free to share this on your personal social media and TAG ME (@aartivraman), please. So I can come and stalk your social media and connect with you there.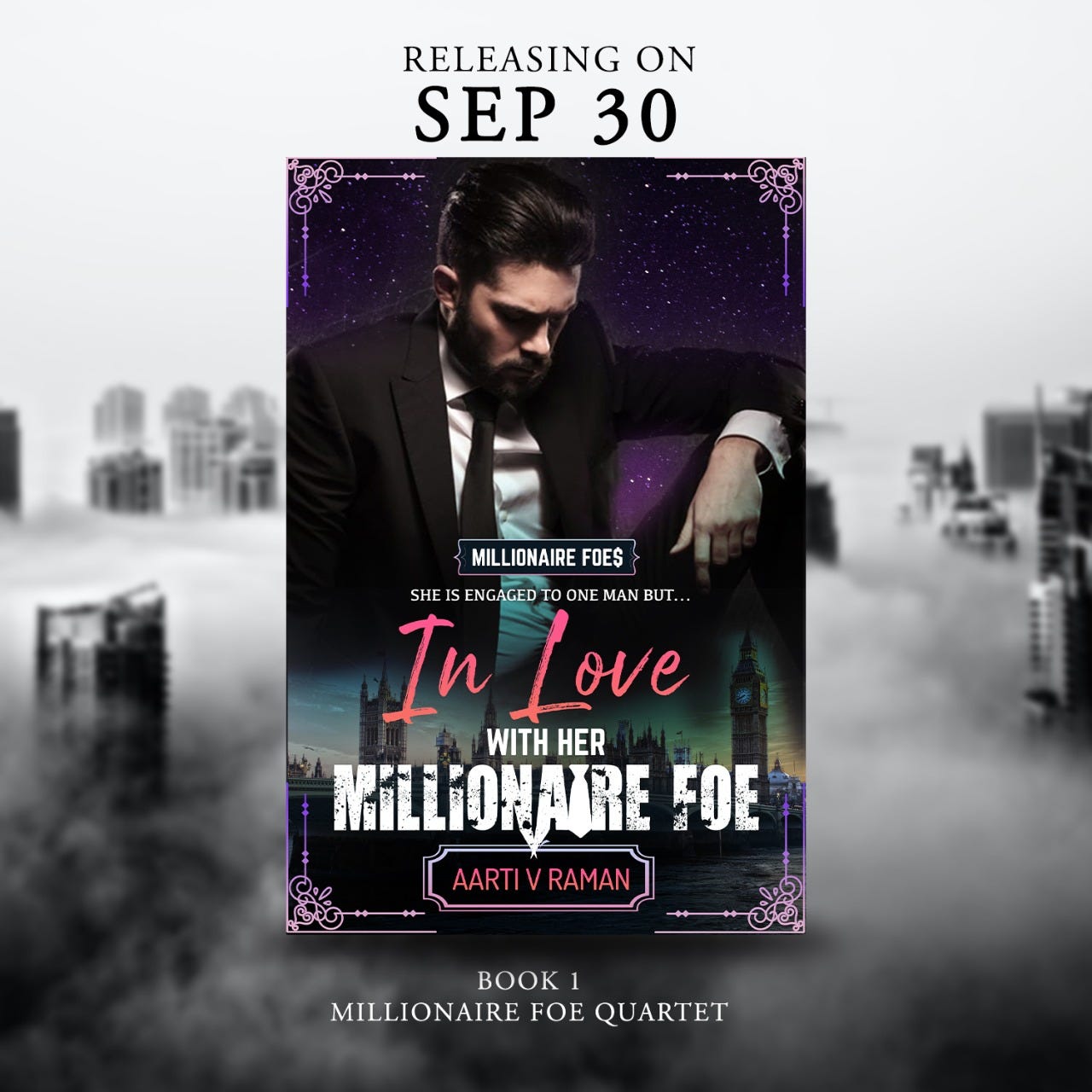 ---
I am also BEYOND excited to share the blurb for this hot enemies to lovers romance that lovers of Indian mythology will recognize. Because it's loosely based on Draupadi and Karna's doomed romance from The Mahabharata.
More on that is given here on my Instagram.
Presenting In Love With Her Millionaire Foe! Cover Reveal coming on August 29!
ADD IT TO WISHLIST by clicking on my Link in bio and then clicking on THIS POST.
Or here: http://www.amazon.in/dp/B08GHCRN53
ILW is Book One in the Millionaire Foe Quartet and is Jamie and Aaliya's epic, angst-filled, sexy love story. *emphasis on the sexy love*
So, one of my favorite characters in the WHOLE WORLD is the Warrior Karna, King of Anga. And I have been obsessed with Draupadi and Karna's doomed love story ever since I first read Palace of Illusions by
@divakarunichitra
.
It has been a fervent dream of mine to give them their well-deserved and well-fought HEA!
And that, in short, should tell you everything about In Love With Her Millionaire Foe. Its epic, it's stunning, it's sexy with characters who make hard choices they have to live with.
I hope you love Aaliya and Jamie as much as I do.
📸
@merrilanil
Outreach
@ddsahay
Xx
Writer Gal
And here's the blurb to whet your appetite.
"So you'll help me?" Aaliya asked.
"Don't I always?" Jamie answered bleakly.
Jamie Curran Smith finally has the millions and the power to return to London and extract his vengeance.
He has only one agenda: to destroy Camilla Everton's sons. The five brothers responsible for his orphaned, miserable childhood.
And he is willing to use any means necessary to accomplish his goal.
Even lie to the most forbidden, precious woman who'd once loved him with her heart, body and soul. 
Pharma heiress, Aaliya Singhania is caught in a terrible dilemma.
She is engaged to the oldest Everton brother – Patrick - handpicked for her since birth and current CEO of Root Pharmaceuticals.  
But Aaliya has an open dirty secret. She's always been in love with Jamie Curran Smith.
The bad boy who picked the enemy because of his vendetta against the Evertons.  
Now, Jamie storms back into her life! Right when Aaliya and Root Pharmaceuticals are in the middle of a hostile takeover. 
Now, Aaliya has to do the impossible. She has to trust the millionaire foe she's in love with.
But Jamie has been lying to Aaliya for ten years.
And his vendetta and lies might just destroy Aaliya when the enemy comes for them…
In Love With Her Millionaire Foe is book one in a brand-new quartet of hot romances starring Millionaire Foes and the women who turn them into Heroes!
---
A bunch of steamy romance authors have gotten together to gift you, our dear reader, some book money. Cha-ching!
THIS GIFTAWAY IS JUST THE BEGINNING OF THE GOODIES coming your way.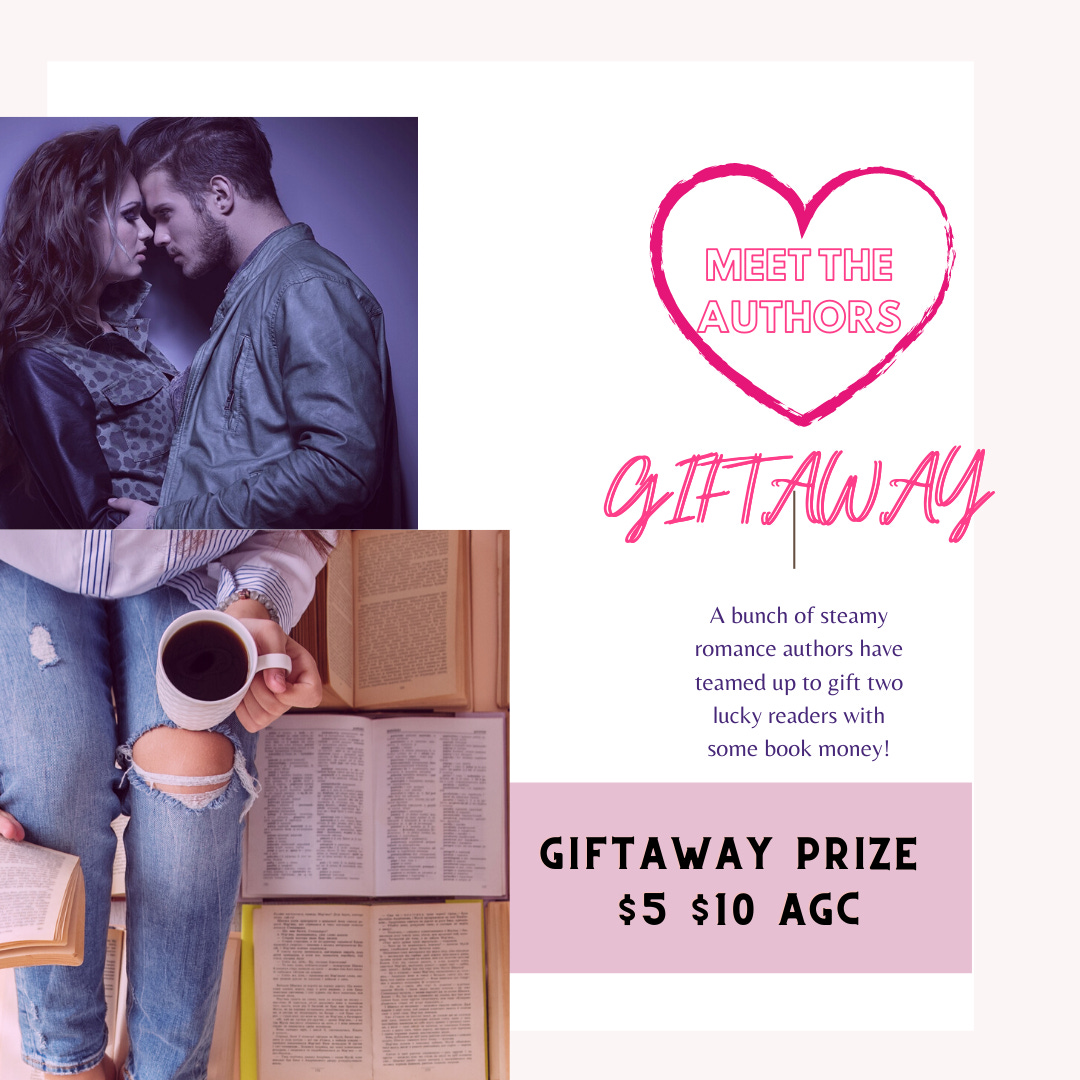 To enter this giftaway, all you have to do is click on the button below and follow the instructions. It's super simple and easy and the prizes are FUN!
So, it's my birthday month and if you follow me on social media, you'll know how MUCH I enjoy the days leading up to my birthday. And this year is extra special because I have dubbed it ZERO BIRTHDAY (considering we are living thru a freaking pandemic) and I have tons of giveaways planned EVERYWHERE!
On my 'Gram and in Writer Gal's Facebook Group. So consider joining me there, if you haven't already.
Join me on Instagram. No, thanks I'm good.
Hang out in Writer Gal's Facebook Group. Nah, I'll stick with The Writer Gal Letter.
For you my newsletter peeps, I have an ARC special that I'm still tweaking so gimme a bit of time to set it up.
The next few months are going to be BANGIN' hawwt, peeps. And I am so excited to go on this next adventure with all of you who've made it possible for me to have them instead of a stressful job that I hate because I dream of being Writer Gal.
Thank you for that and everything else.
Stay safe and awesome till next time,
Xx
Writer Gal