Discover more from The Writer Gal Letter
A regular love letter to my peeps about my upcoming releases, fave shows, and hot dudes, naps, and all the music that inspires my books!
Over 7,000 subscribers
Hello, Friend! And Welcome!
To The Writer Gal Letter
Mahalo,
I'm writing this edition of the Writer Gal Letter listening to some of my most favorite music - from the Netflix show Daybreak.
Hello friend and welcome to the unique, funny, goofy, musical, and very booksy world of Aarti V Raman aka Writer Gal. Thank you so much for agreeing to come on this journey with me!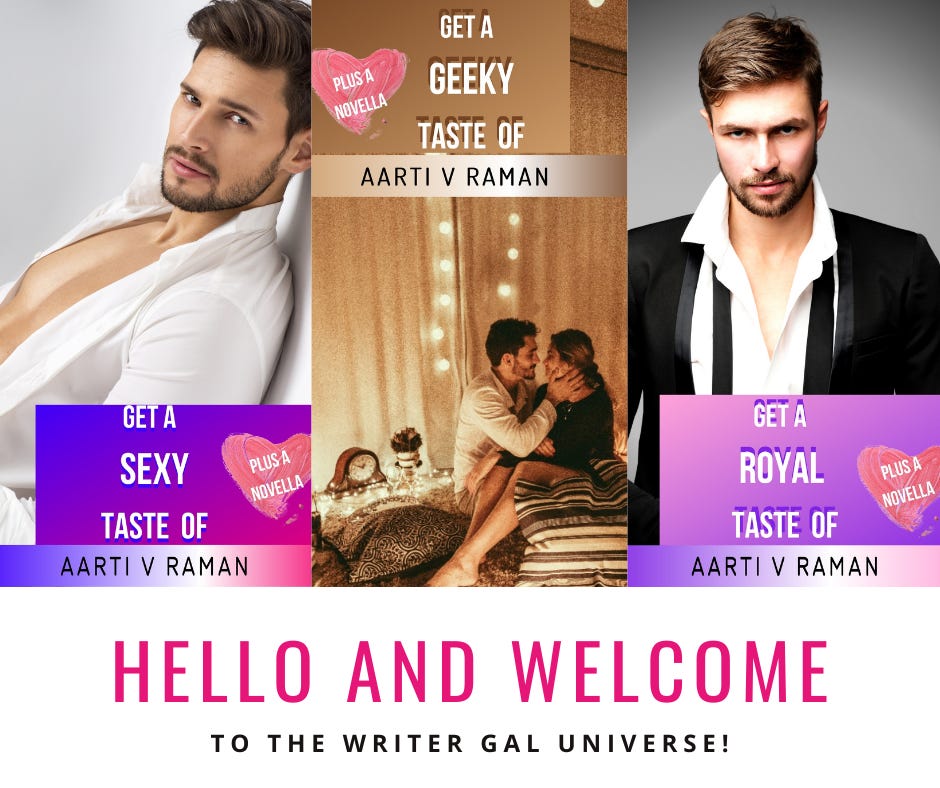 I hope to earn the privilege of your time, interest, and money. (Let's be honest, we authors can't exist on praise alone although believe me, I've tried!). So, seriously thanks!
I also hope to entertain the heck out of you with my stories - both personal and on the page.
The Writer Gal Letter is basically my little corner of digitalia - where I share bookish and life updates, as well as excerpts of WIPs and cover reveals BEFORE everywhere else on public social media. With the exception of my Facebook Group - Writer Gal's Reader Pals.
You are most welcome to join me there but if you prefer old-fashioned letters, which I most certainly do, we can just hang out here. I'll do my best to entertain you and give you all the Writer Galiness you could ask for.
I hope you subscribe to The Writer Gal Letter after receiving this email! But I completely understand if that's not your jam. If you want in, this is the signup link to the official version of The Writer Gal Letter - delivered straight to your inbox frequently.
To this end, here's a chance for you to get a little sampler of the Writer Gal's universe. I write steamy contemporary romances with strong heroes and stronger heroines who take them on! Sometimes, there are guns and bombs in them. And I love, love writing about people from different cultures and countries although I'm a desi girl at heart.
My stories are always guaranteed a Happy Ever After although, fair warning, they just might break your heart and squeeze you breathless along the way.
Got all that? Ready for the ride?
Click on the download button and be taken to not one but FOUR different Samplers from Aarti V Raman!
Think of them as taste tests, appetizers of my brand of storytelling that I sincerely hope to entice you into joining the gang of Awesomes I call reader friends.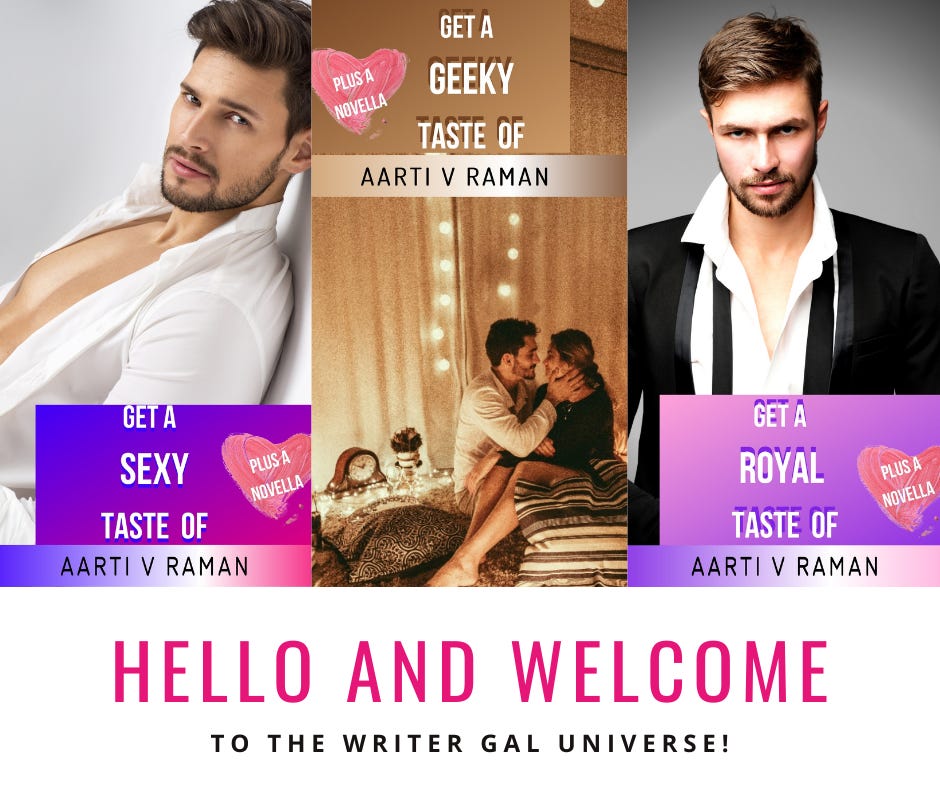 You have Thrilling, Sexy, Geeky, and Royal to choose from. And, because I am a generous Writer Gal, you'll also get a full-length novella from a bestselling anthology in each of the samplers.
So, what are you waiting for? Dive in and come be a part of the Writer Gal universe.
Till next time stay safe and awesome,
Xx
Writer Gal