Discover more from The Writer Gal Letter
A regular love letter to my peeps about my upcoming releases, fave shows, and hot dudes, naps, and all the music that inspires my books!
Over 7,000 subscribers
Blaze has a blurb!
And its Giftaway day!
Mahalo,
I'm writing this edition of The Writer Gal Letter listening to T.A.T.U's cover of The Smith's How Soon is Now because it IS Nihaal's song - I'm the son and the heir of nothing in particular… Mili has her own song too and it's sweet and desperate and all kinds of sexy. I'll share it in the next edition, I promise.
For this edition though, I have a LOT of fun stuff to share with you so the only fam update I have is that Booboo's officially started ninth grade. So, he is basically hitting the books already, going to play football or doing screen time. Our cuddles time is drastically reduced. (Okay, I'm basically blessed that I get to cuddles him at ALL!)
Onto the bookish news now, Postmate.
Blaze has a blurb and IT IS FYNE!
I am sorry, Postmate. It completely slipped my mind to give Blaze a blurb *vacation brain meets writer brain to forget important tasks* because I honestly thought everyone knows what comes next! My bad. My soooo bad!
Here's the blurb and pretty cover once again for you!!!
To save their world, they raced to marry. Now, they Blaze together...

Nihaal's F1 season is not going well. AT ALL. He has to score big with the money men who hold his dream hostage. He has to win all the remaining podiums if he wants to win the championship.

Most of all, he wants to live without the bane of his existence - smart and feisty fixer Mili.

His new wife - who hates his very guts. And possibly wishes him dead.

Mili just came back from the dead a changed woman.

All the grudges and secrets that were so important aren't important anymore. The one thing that hasn't changed?

Mili's hate for her brand-new charismatic husband who's always thought the worst of her. And the way his race-rough hands, race-tough body set hers to Blaze.

Never is too soon a time to see him... But, after their secret arranged marriage becomes public knowledge and the paparazzi descend on Mili and Bhatnagar Farm, Nihaal has only one mission.

To protect Mili. To apologize to her. . And to keep his desirous hands to himself while sharing a roof with the woman whose smoky eyes, razor brain, and mile-long legs drive him insane.

The brooding billionaire is afraid he might have finally met his match with the prickly and independent Mili.

Because the last thing she wants is to be safe. Especially as she courts deadly danger head-on.

Nihaal knows the time has come to lay it all on the finish line - his skill, his passion, and his heart... All are set to Blaze.

Blaze is the heat-filled and thrilling conclusion to Nihaal and Mili's explosive marriage of convenience, enemies to lovers romance that began in Burn (Ruthless Billionaires).
Also, can I just say this? I'm not usually this level of excited about a story especially when so much of it remains to be written and so many moving parts are required to make the next couple work. But…I am KICKED! It's like half my brain is dying to know what happens next with Nihaal and Mili and Nashit and Pehel and…*oh, right, you don't know the Nashit and Pehel saga*
No worries. We will get to it in due time! <3
A Giftaway Like No Other
This is one of two awesome giveaways happening today! In this one, Madhuri Tamse and I have come together to gift SIGNED digital copies of our new releases to you, Postmate. All you have to do is check this IG post out and do the needful!
I haven't ever done a signed edition of a Kindle copy so this is a very special occurrence.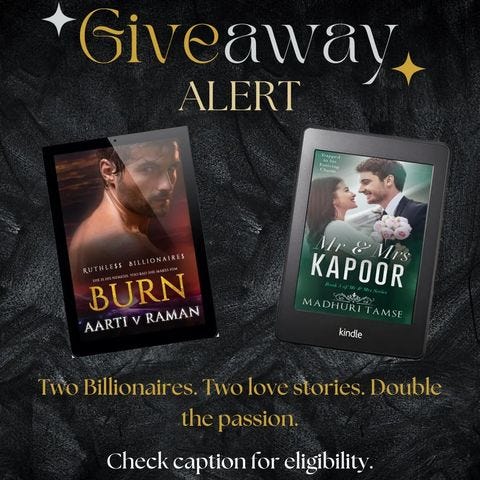 Good luck to you, Postmate and may the odds ever be in your favor!
Stand With Ukraine Is Ending Soon
My first major release of this year is also the book I'm super proud of. Stand With Ukraine is an anthology that has raised thousands of dollars for Save the Children to aid kids in war-torn Ukraine.
The anthology will be ending its run really soon by June end, so this is a great time to download it on KU, get it on paperback or download it direct to your devices.
Reading was never as sexy as it is when reading for a good cause, right?
Protect the innocent.
Provide for families.
We stand with Ukraine.
Across the globe authors have come together to provide stories filled with hope, heart and understanding, inspired by the events of February 2022.
STAND FOR UKRAINE is a collection of romance, women's fiction and poetry. Proceeds go to Save the Children's efforts to provide Ukrainian children with food, warmth, shelter and psychological support.
Genre: Women's Fiction, Romance, Flash Fiction, Poetry
My Favorite Day Of Summer Is Here
Because I get to read 499 FREE books. And you get to read 500. (One of them's mine - In Bed With Her Millionaire Foe - you see!) I'm back with the McDaddy of events. Over 500 shiny new free books by 500 authors! I can feel your Kindles groaning with ecstasy. Right?
Anyway, here's the link. Click on the shiny pink button and go nuts.
If you've been on the fence to read In Bed With Her Millionaire Foe - now's the time to get it. My contribution to the Monster Romance Day is Barry and Jordan's spicily delicious and heartachingly beautiful love story. Jordan's my favorite Foe and low-key my Build a Boyfriend. So I hope you love him like I do, Postmate. Happy reading!
NOTE: You can search for books by author, by platform, by trope and genre. So basically, it's a smorgasbord of smut (and non-smut) for every single one of us! YAYY, right?
Writer Gal's Writer Pals Present
This week, I have the amazing L Steele back with her newest dark romance. Full of deliciousy angst, dirty-talking heroes who are brung down to their knees by spiney ladies! I give you Mafia Obsession with a fiery Capo and a spirited jazz dancer twined together.
Morgan James has a pretty little freebie called Pretty Little Lies! And it is ALL for you. It's got all the steam and angst set in a small town! Who doesn't want that, am I right?
That is it from me for this edition of TWGL, Postmate. I'll see you next week with all the Blaze news. And Burn's paperback news, hopefully and the winner of the Burn Release giveaway!
Till then, stay safe and awesome.
Xx
Aarti