Discover more from The Writer Gal Letter
A regular love letter to my peeps about my upcoming releases, fave shows, and hot dudes, naps, and all the music that inspires my books!
Over 7,000 subscribers
A Free Book, A Brand-New Series Announcement...
And why I am binging so hard on YA Netflix shows
Mahalo,
I'm writing this edition of the Writer Gal Letter listening to Lynrd's Skynrd's Freebird - THE best that country music has to offer. And it is definitely my jam when I need to shake it off. :)
Also, if there any songs you, my dear reader friend, love and can't live without, please hit me up? I am CONSTANTLY in need of new music to keep the creative juices flowing so any leads will be appreciated.
Speaking of leads, let me lead you to the other important bits of this Writer Gal Letter edition. (As always, the freebie book link is provided at the end of the letter so scroll down if that's what you want first!)
If you love my stories - which are all about tight friends, messed up people falling for each other, and a whole bunch of insanely good songs, then you simply HAVE to watch the following shows!

Get Even - a shy hacker, a go-getter good girl, a popular girl and the rebel outcast of a posh school go around trying to right all the fucked up things in their school, including taking on a serial killer. This sounds so much like what our resident Geeks of Caltech would do (minus the tracking the killer part) that I straight up couldn't stop binging on it.

Trinkets - A trio of shoplifting teen girls deal with love, life and all the messiness that comes with growing up. This one is unexpectedly funny and touching and deals with a lot of real-life issues - like coping with death, abusive relationships and defining yourself OUTSIDE of parental expectations…it was faintly autobiographical for me…and I am sure it will resonate with you too, dear reader friend.

THE MUSIC! Expect ALL the music from these two shows to make it to the new books I'm so excited for.
Speaking of new books…
---
ANNOUNCING A BRAND NEW SERIES
Yep! You heard it first here, peeps!
Even as I figure out a way to write Michael and Daria's story (it's cooking very slowly) I am BEYOND excited to share this stupendous update with you, my reader friend.
I, Aarti V Raman aka Writer Gal, am releasing a whole new series of hot and heartbreaking romances starring some INSANELY sexy and complex heroes who will, I guarantee, blow your mind.
Here's a teeny TINY sneak peek on what lies in store for you, my beloved reader friend.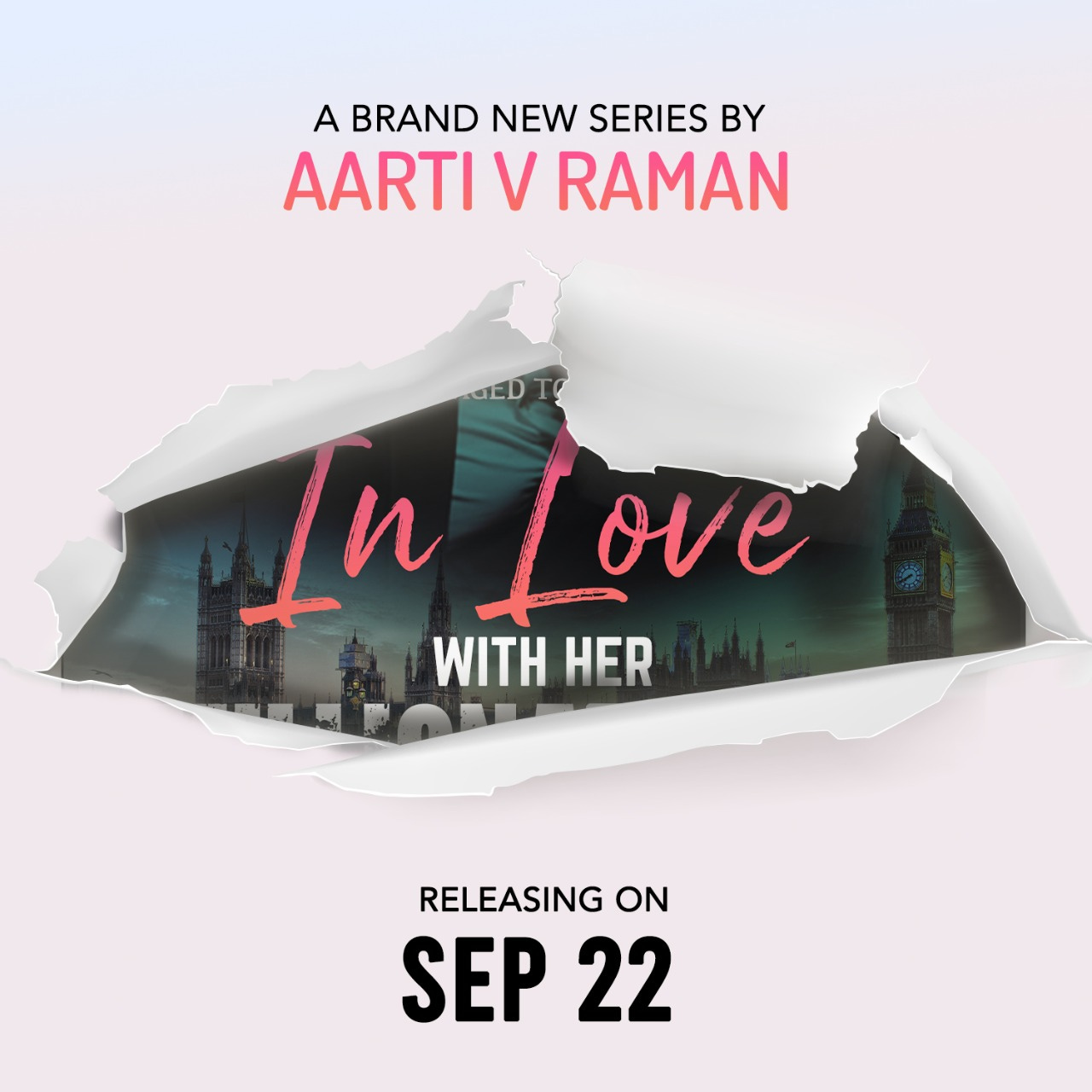 They are four in number and they will arrive EXTREMELY soon to a device near you. In fact, the first one will release on my birthday, September 22. And I have tons of awesome things planned for you to anticipate this book release, including sharing the pre-order links at a VERY special discount just for you guys!
REQUEST: Please do follow me on Instagram, as some of these book-related activities will take place on my 'Gram. I look forward to seeing you there.
Do let me know your first reactions to this extremely FIRST LOOK of the series! I love, love hearing from you guys.
And now…as promised!
---
One of my most cherished stories - the story of the Thanjavur Thunders - Days of Our Lives is free to download for a limited time.
And it comes with a brand-new playlist that, I think, will elevate your reading experience by a 100% I mean, music makes everything better, doesn't it? I'll share a link to the playlist at the end of this section, but it's there in the book too. So hop to it, will ya? ;*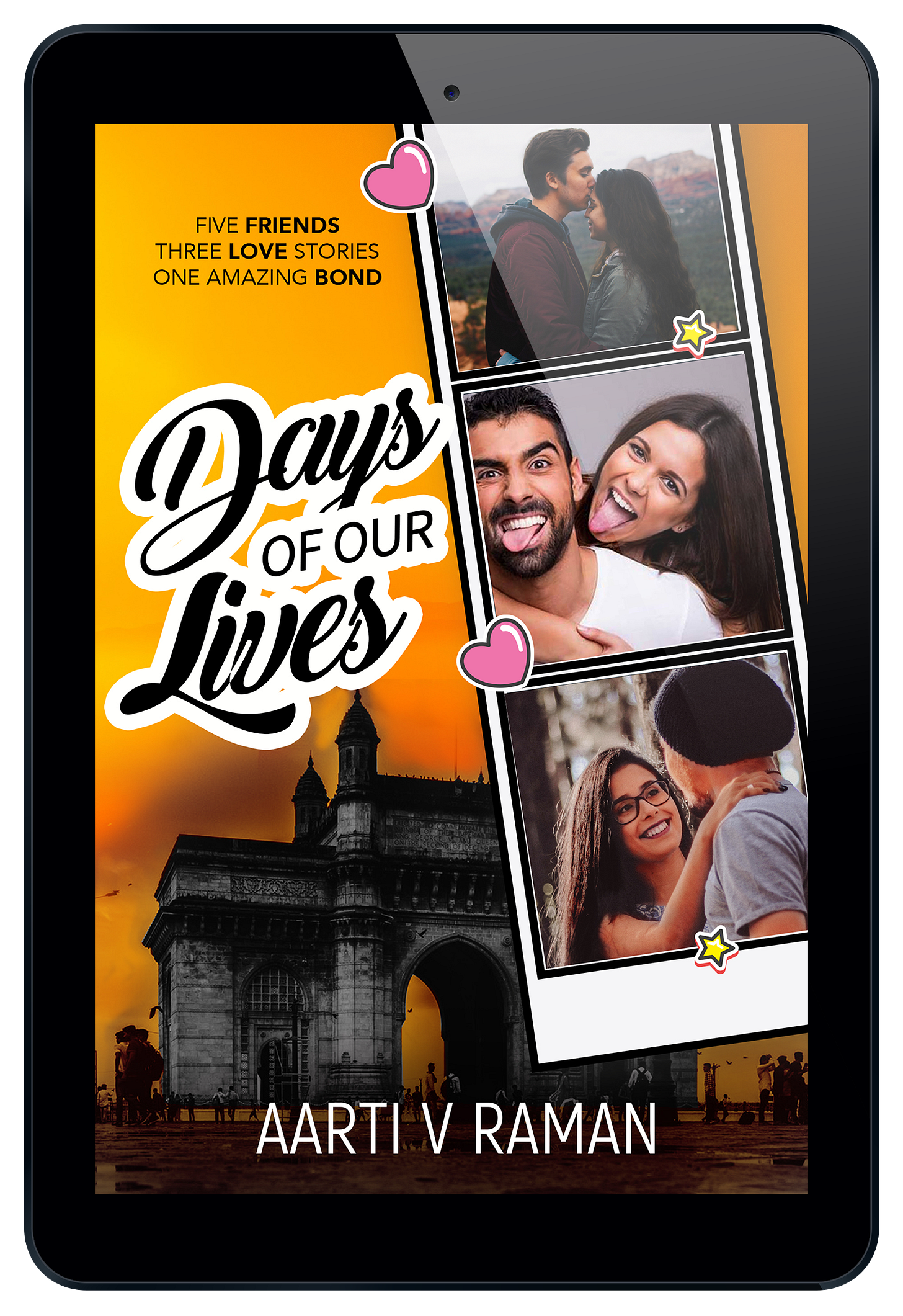 Here's the blurb to whet your appetite:
Five best friends…three interconnected love stories…a whole lot of laughter, love, and drama!
Meet 
Shashi Shivaramakrishnan
, the baby of the Thanjavur Thunders, a group of small-town childhood best friends.
Bubbly Banker Shashi is desperate to shift to Mumbai and hang out with her best friends, hotshot Dr. Anu and 'happily' married couple Avi and Meher.
The only hitch?
Her over-protective parents won't let her move without getting engaged!
Enter handsome and reserved engineer 
Arjun Seshadri
, who fits the marriage criteria splendidly!
Arjun agrees to pose as her fake fiancé, for his own mysterious reasons.
Shashi's happiness overflows when her cousin 
Charlie Thomas
, Thanjavur's bad boy, also comes to Mumbai and takes up a job there. 
The gang is together for the first time in a decade but, what the Thunders are about to find out is that adulting is hard…even when you have your best friends around.
Avi Sreedhar
 and 
Meher Raghuman
 have never fought, 
ever.
But now, with the question of a pregnancy looming over their marriage, their perfect relationship is tested like never before.
Dr. Anu Harinandan
 is a dutiful, obedient daughter who only wants to make her parents proud.
Except, she just might want rebel Charlie more.
And what of Shashi and Arjun?
Is their engagement all fake or are their feelings real?
Can these five friends survive living together, dealing with secrets and heartbreak without losing each other?
Days of Our Lives is a funny and touching take on lifelong friendships, finding love and becoming your own person…with the people who know you best, by your side.
And this is the YouTube Soundtrack for Days of Our Lives - A Modern Indian Romantic Comedy. The music is an eclectic mix of Hindi, Tamil, and English songs and I would love to know how you found it!
I'll be writing in again next week to share the pre-order info on the BRAND NEW SERIES and I sincerely hope you all enjoy it as much as you have everything else.
Till next time be safe and awesome.
Xx
Writer Gal